Memories of Meadowbrook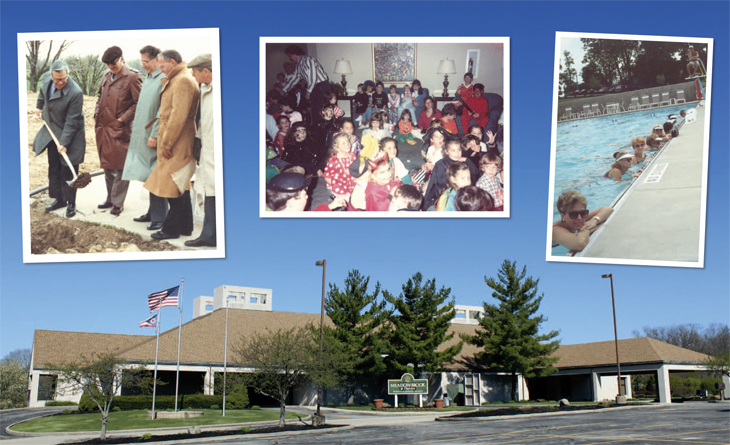 Over a period of 90 years, it was a family club as much as a country club.
By Marc Katz, Special To The Dayton Jewish Observer
It was unseasonably cool on Wednesday, Aug. 14, 1963, when Arnold Palmer drove the first hole at Meadowbrook in an era when even the top PGA pros played lucrative exhibitions between tour events.
"I wasn't there, but I heard about it," said Art Shone, who was 28 at the time; he was busy with his family real estate business.
"A big deal? Sure it was a big deal. Most guys used a driver and a wedge to reach the first hole. I was a single-digit handicap golfer, and I couldn't do it."
Palmer shot a 70; just under the weather, he was apologetic.
"I wish I could have hit the ball better and given them a better show," said Palmer, who played in front of a crowd estimated at 2,200 to 3,000.
Founded in 1924, Meadowbrook was more than a country club. It was a social center for Dayton's Jewish community. In the winter of 2014, the owner donated the 18-hole course to the city of Clayton as a public place. Clayton City Manager Rick Rose sees the site as a considerable value to the citizens of his city and surrounding area.
Use of the golf course is up and a new caterer has been signed to operate a daily grill and provide for larger events.
While the city initially has no plans for the six tennis courts or swimming pool, those areas are expected to be transformed into an outdoor event facility.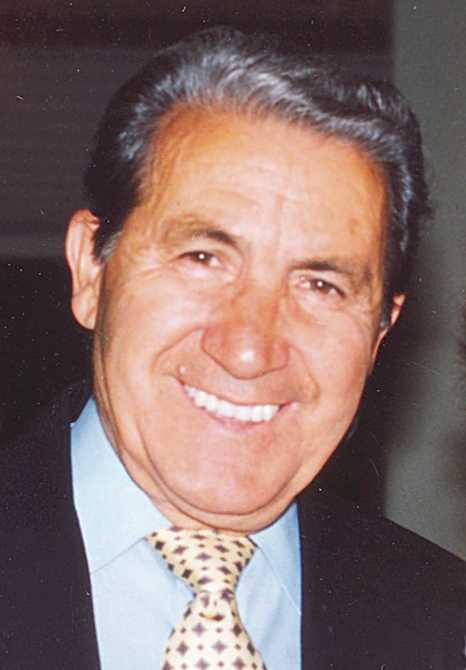 Over a period of 90 years, Meadowbrook was a family club as much as a country club, a Jewish community venue where people gathered for golf and weddings, golf and Bar Mitzvah parties, golf and the best Sunday dinner in town under the watchful eye of club manager Ted LaVeris, who never forgot a name, what a member wanted to eat, or where each member wanted to sit.
It became a place to hang out at the pool and play tennis, enjoy lunch and the view, or just to hang out.
"Oh, it was like a second camp for me," said Brenda Rinzler, whose family held Meadowbrook memberships for decades. "Jewish kids used to go to camp in the summer. After camp (and before), my parents dropped me off (or she took the bus). I played tennis and (later) became obsessed with golf. I was born into Meadowbrook."
Her father, Harry Schear, was a past president. When she and her late husband Allan, moved back to Dayton from Atlanta, they joined on their own. They built a home nearby. Meadowbrook was where they spent a lot of their free time.
"There were not many restaurants around," Rinzler said. "We ate at Meadowbrook two to three times a week, and we never had to eat by ourselves. It was not snobby. The food was the best in town. The entertainment was the best in town (including song-and-dance routines). Kids grew up at the original pool (built in the 1950s). We had formal parties."
For many, it was the place where from 1953 to '86, LaVeris ruled as a kindly king. He hired teenager Patty Wagner to help with the books in 1966, and she has been there ever since: a much safer job than her other vocation.
Wagner became a wing walker after marrying her husband, Bob, a stunt pilot. On weekends when she wasn't at Meadowbrook, she likely was at a flight show or state fair, her husband climbing to just under the clouds while Patty was harnessed to a wing, walking back and forth.
Bill Williams still runs the pro shop as he has since 1997, reporting that rounds of play have more than doubled last year, from 10,000 to 21,000. With more publicity — and good weather — play should be up even more this season.
It all began at a 1924 meeting of 35 men in the dining room of the downtown Egry Register Co. at a time when country clubs were much more restrictive.
Initially, they leased 125 acres (an additional 55 acres were purchased in 1935) from The Lightner Farm on Salem Pike. Seventy-five families became charter members as Scotsman Alex "Nipper" Campbell was contracted to design a nine-hole course with 14 tees (to give different views and shots). He was named the club's first pro.
Egry Register President Milton Stern served as Meadowbrook's first president, with a roster of members that included Eugene Ach, Raymond Adler, Max Frankel, J.H. Margolis, Elmer Rauh, Ben Shaman, and Joseph Thal.
In the very earliest of days, there weren't many country clubs — or fine public courses — anywhere. In the Dayton area, Piqua Country Club opened in 1896, Dayton Country Club opened in 1897, and Springfield Country Club followed in 1898.
John Patterson donated 340 acres in Kettering for the community golf course, opening nine holes in 1919, and four other golf clubs opened by the end of 1923, when Meadowbrook went on the drawing board.
Meadowbrook had a different membership philosophy from most clubs, requiring members to make donations to Jewish causes in relationship to their club dues. For decades, the Jewish Federation of Greater Dayton's annual campaign had a Meadowbrook division.
In 1934, Depression membership dwindled to 32, golf pro Ock Willoweit worked without salary (except for the occasional tip) and the greens keeper was reduced to $20 per week. During World War II, the clubhouse was closed for about a year.
Norm Kidd, the longest-serving pro in the club's history, was there from 1944 to '79. He oversaw the rebirth of the club, with its full 18 holes, and Max Frankel, one of the last of the founders, was still playing.
The 1950s marked the club's high point, with additions and expansions through the '60s.
"Meadowbrook, for maybe a couple of hundred families at best, was kind of the focal point of their social life," Shone said.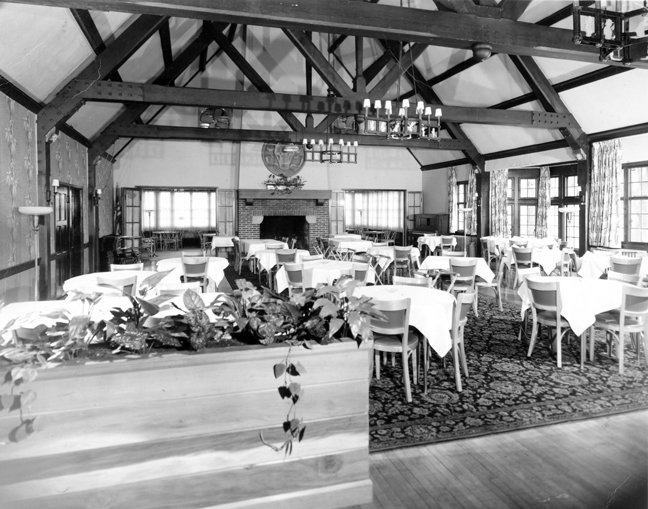 "Businessmen and doctors played golf on Wednesday afternoons. Sunday night dinners were a real treat. My parents would take us for Sunday night dinner because we could play bingo. In that wonderful old Meadowbrook clubhouse, and with that big-beamed English ceiling, it was great fun to have dinner and play bingo. Saturday nights were very much the social life of its members. There were parties at the club. I would go out to play golf on Sunday morning, my wife and kids would go to the pool and we would meet for lunch."
Golf, of course, was always the central cog of the club.
"When I came here in 1997," said Williams, "three (older) guys used to play all the time — Milt Levinson, Jake Margolis and George Brockman. They took a cart out every day and played 18 holes in about an hour and 15 minutes.
"I couldn't understand how they could get around the course that fast — especially at their ages — so one day I went out to watch them. They never putted. As soon as one of them landed on the green, they'd pick up their balls and go to the next hole.
"One day, they lost a ball in the creek near the 17th hole and instead of just using a new ball, they went looking for it, like they couldn't afford a new ball.
"But they forgot to put the brake on the cart. It rolled down the hill — I don't know how it missed them — and into the creek. One of them walked back to the clubhouse and told me they had a problem."
That was after the fire, and by that time, membership had expanded beyond the Jewish base, although Jewish members were still the core of the club.
The fire came July 24, 1986. It was a Thursday, and started in the kitchen.
"We had to take everything out of the shop," Patty Wagner said. "The amazing thing was how many people helped us."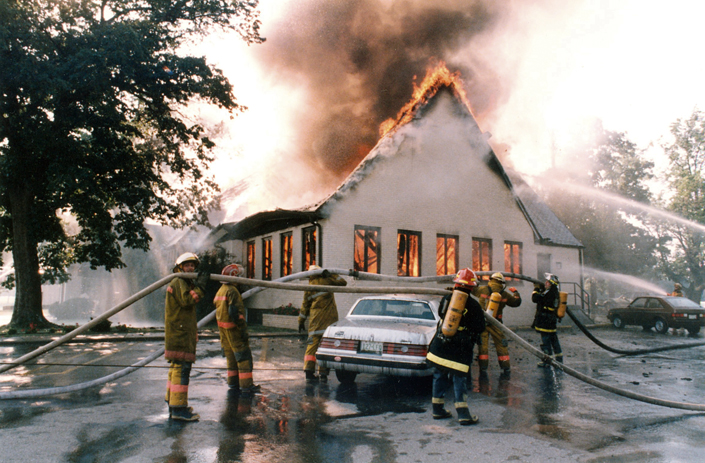 Although the fire accelerated the pace, Meadowbrook's membership was declining as Jews began moving from mostly northern neighborhoods to the south; older courses began admitting Jews and newer clubs glutted the Dayton market.
"People were not really welcome at any of the other clubs until the mid-1980s," said Steve Wagenfeld, Meadowbrook's president at the end. "The biggest loss we had was right after the fire. And people were actually going south and not joining other country clubs. Their lifestyle changed. They weren't playing as much golf."
Assimilation was also taking over. Jews didn't have to stick together as much any more.
The fire, though, was critical, especially since the old clubhouse was under-insured. Despite that, a decision was made to rebuild on a grand — and costly — scale.
"It was a slow death," Wagenfeld said. "We could not figure out a way to get people to join."
The club turned to a management company that didn't work out, and in 2005, local entrepreneur Larry Harris bought the club.
Harris, one of the first non-Jews to join the club, lived nearby and liked the club so much, he thought he could save it.
He operated it for about a decade, and when he sold his core business and semi retired, faced choices of selling the land piecemeal or saving it as a golf destination.
"Tremendous people there," Harris said. "During the time I was there, they were tremendous. It just wasn't going to make it (as a club). I thought, what could I do for the community and keep the history of Meadowbrook there?"
He offered it to Clayton, which, on short notice, began operating the golf course in 2015.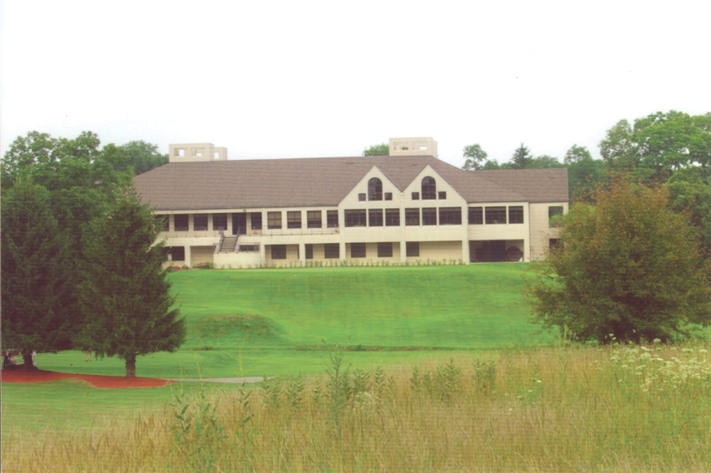 The city has since refurbished the clubhouse, pro shop (including re-stocking) and this year has added Heritage Catering to plan events for the 65,000 square-foot clubhouse and to provide food for the daily golfers.
It won't be quite the same, but it survives.
Art Shone used to play every Saturday at Meadowbrook with Jimmy Patterson, Jimmy Schear and Steve Wagenfeld, the youngest of the group.
He still goes from time to time, but he lives south, in Centerville. So does Wagenfeld.
"It's bittersweet," Wagenfeld said. "I still play there. A lot of the same people who were members are still playing there. But you see a lot of strangers. It's a public golf course. It's no longer Meadowbrook. It's a different feeling."
Do you have memories of Meadowbrook to share? Send your recollections and photos to Marshall Weiss at MWeiss@jfgd.net. We'll post them here at our website, daytonjewishobserver.org.
To read the complete May 2016 Dayton Jewish Observer, click here.