Randi Zuckerberg to open Campaign May 15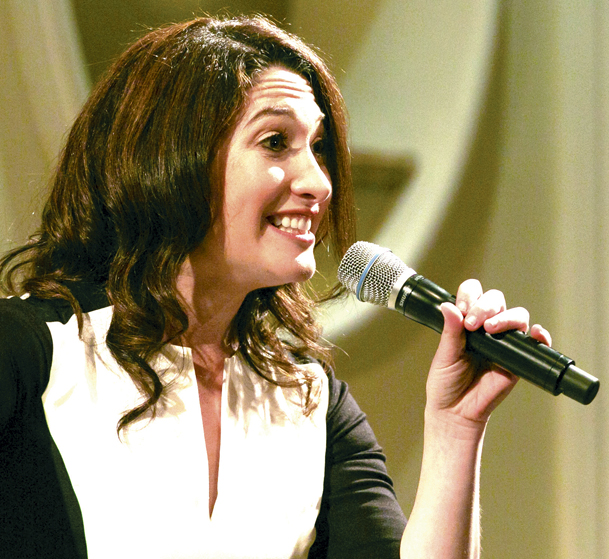 By Danielle Berrin, Jewish Journal of Greater Los Angeles
Two years after graduating from Harvard, Randi Zuckerberg received a job offer from her brother Mark — the founder of Facebook — to head up his company's marketing.
Today, she is an Internet entrepreneur, the founder of Zuckerberg Media, the author of the New York Times Bestseller Dot Complicated, and a related lifestyle Web site, as well as a wife, mother of two, and multimillionaire.
She never saw it coming. Back in 2005, according to Zuckerberg family myth, younger brother Mark was concerned that his sister — then a Fox News show production assistant — was heading toward a dead end, and decided to fly her from New York to Silicon Valley to visit Facebook's offices.
By the end of the trip, he made her an offer: Sloppily scrawled on a single sheet of paper, he wrote two numbers, a salary and a number of stock options.
With stunning bravado, his sister — the oldest of four — crossed out the stock options and doubled her salary. Mark kindly insisted on his original offer.
The rest is family, Facebook and, arguably, national history.
"I really did experience the American Dream — in the cheesiest, cheesiest way," Zuckerberg told me in an interview.
The outspoken, animated 34-year-old will be the keynote speaker for the Jewish Federation of Greater Dayton's Presidents Dinner Annual Campaign kickoff on May 15. She'll talk about the power of living and giving Jewishly.
A dozen years ago, she was "a poor, entry-level" working girl barely in touch with her roots, who jumped at the chance to go on a Birthright Israel trip with her then-boyfriend (now husband) because it was free.
"We didn't have that much money, so we thought, 'Let's go to Israel! For free! How awesome.'"
She was equally loosey-goosey about her brother's life-changing job offer. "I couldn't envision that life existed outside of Manhattan," she told a Los Angeles Lion of Judah luncheon of 500 women. "I was not about to move to a suburb in California to work on my brother's stupid little project."
Confident in the spotlight and a natural on stage, Zuckerberg worked wonders on this crowd, most of whom were pleasantly surprised over her sense of humor.
"I would like to point out that I actually graduated from Harvard, unlike another member of my immediate family," she quipped.
And she won over even more fans with her singing voice, concluding her appearance with a rendition of Debbie Friedman's L'Chi Lach (Go Forth).
Zuckerberg's entertaining exuberance has sometimes done her a disservice. Early on at Facebook, she ran into trouble when a few videos showcasing her inner actress (in one, she wore a pink feather boa over a bathing suit and lip-synched Chapel of Love) went viral on the Internet and embarrassed the company. The press piled on, encouraging an image of Zuckerberg as brassy and out of touch.
Since then, she has become much more conscientious about her public image — and her politics.
Several years ago, when she attended the World Economic Forum in Davos, Switzerland as a correspondent for Facebook, Israeli President Shimon Peres invited her to sing at Israel's official Shabbat dinner.
After performing Yerushalayim Shel Zahav (Jerusalem of Gold) before a room full of international dignitaries — "everyone from your dreams," she recalled giddily, including Israeli Prime Minister Benjamin Netanyahu and Nobel Prize winner Elie Wiesel — Zuckerberg realized that "I had just taken a very public stand for Israel and for the Jewish community."
A backlash ensued. Some critiques were so withering, Zuckerberg decided to "decline the honor" when Peres invited her to repeat her performance the following year. In a world in which you are what you post, and Google can aggregate your hits and misses on a single page, Zuckerberg concluded, "You only get one identity."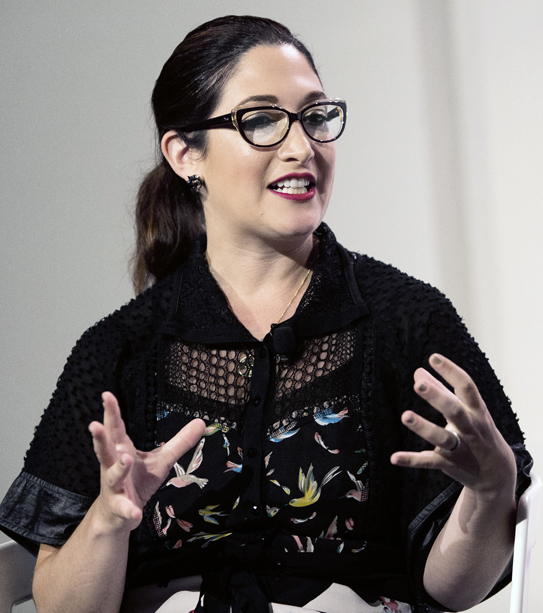 Yet, just within the last several years, Zuckerberg has undergone two transformations that have altered her public persona: She quit her job at Facebook and became a mom.
The Reform-raised Zuckerberg said having children changed her relationship to Judaism and Israel.
When she married her husband, who grew up Conservadox in South Africa, they tacitly agreed to practice "his and hers Judaism," which translated to: "I'll sneak some shrimp when we go out, and we won't talk about it."
But that doesn't work when you have children, she admitted.
"We needed a shared value system" — and, as they had both happily shared Birthright, Israel seemed like a good place to start.
Three years ago, Zuckerberg invited 16 Silicon Valley CEOs to accompany her on a high-tech tour of their counterparts in Tel Aviv.
"After that, I became a Super Jew," she said. Zuckerberg is also beginning to think strategically about her giving. Until recently, she admits, she was thoughtlessly plunking down money for tables at charity dinners without any sense of purpose.
"I realized, 'Wow! I'm being very charitable across a lot of things, but I have no mission.'"
She started a donor-advised fund with The Jewish Community Federation of San Francisco and explained that, for now, all her giving is focused on the Jewish community and Israel.
The Jewish Federation of Greater Dayton's Annual Campaign helps meet the needs of Jews in Dayton, Israel, and worldwide; Presidents Dinner attendees will be asked to make their pledges to the Federation's 2016 Annual Campaign.
These days, Zuckerberg also hosts Dot Complicated on SiriusXM, and the children's version of the Dot Complicated book, DOT, has been optioned by the Jim Henson company for production on CBC and Sprout Networks.
For a month in 2014, she even performed in the '80s "jukebox" musical Rock of Ages on Broadway, which led her and her family to move back to New York.
She's also a mentor on Oxygen's new show, Quit Your Day Job, with a premiere date set for March 30.
"I had an incredible time working at Facebook," she said. "But I definitely felt like I was living inside a really big shadow. And the only way I was going to stand a fighting chance of making my own name in the world was to tear the Band-Aid off. I think I'm still on a bit of a journey discovering who I am — and that's the fun of life."
Randi Zuckerberg is the keynote speaker for the Jewish Federation Presidents Dinner Annual Campaign kickoff at 5 p.m. on Sunday, May 15, at the Boonshoft Center for Jewish Culture and Education, 525 Versailles Dr., Centerville. The cost is $75 per person, with additional giving levels available. R.S.V.P. to Alisa Thomas, 610-1555. 
To read the complete April 2016 Dayton Jewish Observer, click here.