Longtime Federation staffers retire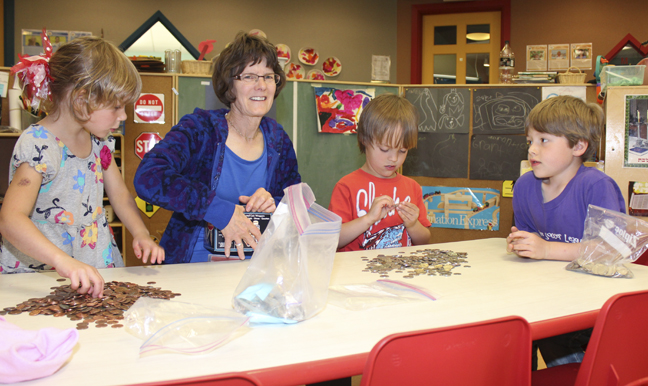 Photos and Story By Marshall Weiss, The Dayton Jewish Observer
For more than a generation, they've cared for the youngest and oldest in Dayton's Jewish community.
Jewish Community Center Preschool Supervisor and Lead Teacher Pat Jones has taught our children and grandchildren for nearly 36 years. And Jewish Family Services Senior Outreach Manager Hyla Weiskind has watched out for our parents and grandparents for 24 years.
To mark Pat and Hyla's retirements in June, the Jewish Federation of Greater Dayton will honor their years of service at its annual meeting on Sunday, Aug. 9 at 2 p.m. at the Boonshoft Center for Jewish Culture and Education.
The JCC and JFS are agencies operated by the Jewish Federation.
A native of Mechanicsburg, Pa., Pat arrived in Dayton with her husband, chemistry professor Dr. Richard Jones, by way of Massachusetts in 1977.
"When we moved out here, my husband was at Sinclair and we tried taking my 3-year-old daughter to Sinclair preschool," Pat recalled. "She was unhappy. Long story short, she was crying and didn't want to go to school. And the fellow at Sinclair said, 'You might want to talk to Lynda Cohen (director of the JCC preschool). It's a really good school. See if it's a good fit.'"
Pat, who isn't Jewish, said she liked the idea of exposing her daughter to Judaism. When her second daughter began in the room for 2-year-olds, Lynda asked Pat to work in the preschool part time. Pat held a bachelor's degree in elementary education from Purdue.
Eventually, Lynda asked Pat to go full time, and then to take over the preschool's summer camp.
Hyla and her husband, optometrist Dr. Ray Weiskind, moved to Dayton from their native Cleveland in 1973. That year, she began volunteering as an advisor with BBYO, and at Covenant House, Dayton's Jewish nursing home.
In 1991, the JCC and JFS hired Hyla to coordinate daily programs for their senior lunch site at the Jesse Philips Building in Trotwood.
Hyla would complete her bachelor's degree in social work in 1999 at the University of Dayton.
Through a grant, she started the JFS Bikur Haverim Friendly Visiting Program, which connects volunteers with seniors in Dayton's Jewish community.
Learning from so many
Five years ago, Hyla began managing senior outreach and case management for JFS.
"There's nothing like the home visits and the stories they (seniors) share and the things they tell you about their children and their childhood experiences," Hyla said. "You learn more from this population than you could learn from anyone. The wisdom from the elderly population is so enormous, you can never get back what you received from them."
Inspired through her 21 years as a volunteer at Hospice of Dayton and the bereavement groups she led for them, Hyla used the format to facilitate a twice-yearly bereavement group for JFS, which she called Hello Again. She led the JFS bereavement groups at Beth Jacob and Beth Abraham Synagogues, from 2003 to 2014.
"I always thought that whoever passed away should always be kept in the person's life," Hyla said. "We felt we needed something that had a Jewish tone."
Pat said she credited her understanding of Judaism to the late Lynda Cohen.
"She was fabulous," Pat said of Lynda. "She was my mentor, my teacher, my friend. She taught me most of what I know about Judaism. She taught me how to be a better teacher. She didn't beat you over the head with it; she showed you. I learned a lot from watching how she did things."
It was Lynda who encouraged Pat to sign up for the Federation's Melton Adult Mini School Jewish learning program in the late 1990s.
"I've learned from so many people over the years," Pat said. "And I keep learning. I go up and I work with Rochel (Simon, a kosher supervisor at the CJCE) in the kitchen and I learn something new each time I work with her up there."
She appreciates being included in community members' Jewish lifecycle events. "I am so grateful that the community has welcomed me the way it has."
Pat said that when she started at the JCC preschool, the emphasis was more on Jewish traditions. In recent years, the focus has been more on teaching hands-on Judaism.
"We have gotten involved with Chabad coming in and doing Judaics for us," she said.
Now, during the daily morning snack, children recite the appropriate blessings in Hebrew.
Changes over the years
"We have fewer Jewish children than we had when I first started," Pat added. "It was more like 60-65 percent Jewish at that time. And now we're more like half. And we have more interfaith families now."
Hyla said the most significant change she's seen in senior care is that the elderly live much longer now and live more active lives longer as well.
"The care is competitive, the care is getting better in the home," she said. "I think you have more opportunities, you have more choices.
"No matter what anyone says, if you can afford it, there's no place like home. Your quality of living is, without a doubt in the home — if you can afford it. You have to have an advocate if you're not in your home."
Advocacy has been a key part of Hyla's job.
"I've known a lot of these families because the kids were in BBYO, so I get a call from someone and I know the background of the families," Hyla said. "The kids might have left, but the majority of parents have stayed."
Secrets to success
Hyla described her work with JFS as putting pieces of a puzzle together to help people.
"You walk in each morning and we never know what's going to happen," Hyla said. "Because in this job, there can be a crisis. We have happy times and we have sad times. God forbid, someone is sick, dying, needs us to be there, we are there for them. So it's something I'm going to miss. But there's got to be time when you have to move on and go with your family and help them put the puzzle together."
Pat, who is known to have a firm command over her young charges, said she's able to gain their respect through love.
"I love them all. And I tell them that, and I show them that," she said. "And I think, in response, they listen better. It's also a matter of being firm, and letting them know what you expect."
That's something, Pat said, some younger parents need to remember: children need to know what it is you want.
"You need to be clear about what you want," she said. "And then you back it up. You have to actually mean what you say. The other thing is you make it fun. There are times when we don't just walk up the stairs. We hop up the stairs, just to make life interesting."
Pat and Hyla each plan to stay in Dayton for now. One of Pat's daughters moved back here three years ago, giving her the gift of two grandchildren in town.
Hyla's grandchildren are in the Baltimore area. She said she's considering volunteering to rock babies in a preemie unit, and might sign up for art classes.
"It really has been a privilege to have this job," Hyla said.
"Thank-you to the children, parents, teachers and colleagues I've been privileged to work with and learn from," Pat said. "Thanks to Audrey MacKenzie (current JCC Early Childhood director) for being so welcoming, and for becoming not just a guide and mentor but also a friend. I'm not sure how I will survive without my hugs."
The Jewish Federation of Greater Dayton will honor Pat Jones and Hyla Weiskind at its annual meeting on Sunday, Aug. 9 at 2 p.m. at the Boonshoft Center for Jewish Culture and Education, 525 Versailles Dr., Centerville. Following the meeting, at 3:30 p.m., the JCC will present a rock concert with the American/Israeli group Moshav outdoors at the Boonshoft CJCE. Both events are free and open to the community. To R.S.V.P. call 610-1555.
To read the complete July 2015 Dayton Jewish Observer, click here.