Debunking Internet rumors: Part 2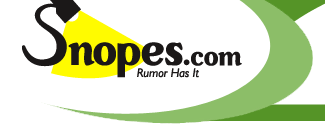 The Jewish Internet with Mark Mietkiewicz, Special To The Dayton Jewish Observer
Last month, we looked at how to spot rumors and hoaxes that are circulated (and re-circulated) on the Internet. Now it's time to take a little quiz. See if you can determine fact from fiction.
Rumors
1. Around the time of the 2008 presidential campaign, a billboard outside a Beth Sholom Synagogue read "Happy New Year! Please vote for the (Yiddish term for a Black person)."
2. YouTube has been removing videos posted by the Israel Defense Forces.
3. An Egyptian cleric once called for a boycott of Starbucks because he said its logo portrays Queen Esther.
4. Tom Green's MTV show was canceled after he taped a sketch in which he appeared at a Bar Mitzvah dressed as Adolf Hitler.
5. Sex expert Dr. Ruth Westheimer served as a sniper in Israel.
6. Steven Spielberg wrote to Mel Gibson taking him to task for his antisemitic remarks. "I am one Jew who doesn't accept your apology."
7. Continuing on the Gibson beat…Mel's daughter Mary-Catherine Regina Gibson converted to Judaism to marry Ezekiel Sharon, a devout Jewish record producer.
8. Students in Tennessee collected six million paper clips for a memorial to Jewish victims of the Nazi Holocaust.
9. Actress Natalie Portman made a $50 million donation to a hospital in Israel.
10. As a teenager, former U.S. Secretary of State Colin Powell learned Yiddish while working at a Jewish-owned store in New York.
Truth
1. False. The "photo" was created by a website that allows people to insert what looks like authentic looking text into images (bit.ly/jrumor18).
2. False. The IDF spokesperson continues to maintain a page at the video site (bit.ly/jrumor11).
3. True. Most see the logo as a mermaid but not Egyptian cleric Safwat Higazi, who called for a boycott of the chain (bit.ly/jrumor12)
4. False. As the debunking website Snopes.com puts it, "The rumor isn't true, but people were apparently willing to believe it because it fit their image of Tom Green (bit.ly/jrumor13)."
5. True. In 1944, Westheimer, then Karola Ruth Siegel, 16, joined the Hagana as a lookout and sniper. "I could hit the target smack in the center further away than anyone could believe…Even today I can load a Sten automatic rifle in a single minute, blindfolded (bit.ly/jrumor14)."
6. False. The letter is a fabrication and a forgery (bit.ly/jrumor15).
7. False. Don't believe what looks like news especially if it's from humor sites like The Onion or in this case, The Daily Currant (bit.ly/jrumor16).
8. True. The award-winning documentary Paper Clips tells the story of the students and their memorial to victims of the Holocaust (bit.ly/jrumor17).
9. False. Portman once appeared at a ceremony where Jerusalem's Hadassah hospital announced it had raised $50 million. Inaccurate and persistent rumors have tied Portman to the donation (bit.ly/jrumor19).
10. True. Powell's family moved to a largely Jewish neighborhood in the Bronx, where he picked up some Yiddish while working at Sickser's baby equipment store. Powell once admitted, "Well, yes, I do understand a bissel (bit.ly/jrumor20)."
So, how did you do?
0-3 Correct: You understand a bissel about hoaxes.
4-6 Correct: Rumor has it you're learning.
7-8 Correct: You're an urban legend.
9-10 Correct: E-mail maven!
Mark Mietkiewicz writes about resources for Jewish life to be found on the Internet. Contact him at highway@rogers.com.
To read the complete July 2015 Dayton Jewish Observer, click here.