Exhibit at Miami U on Jews who fought WWII with Soviet armed forces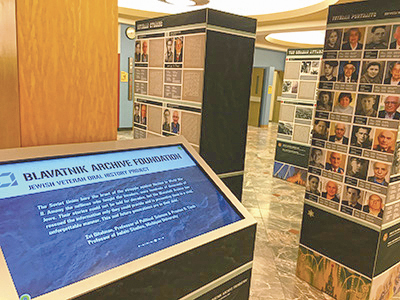 In conjunction with Hillel at Miami University and Miami University's Havighurst Center for Russian and Post-Soviet Studies, an exhibit from New York's Blavatnik Archive is on display at Miami University's King Library on the Oxford campus through Nov. 17. It depicts stories of Russian Jews who fought in the Soviet armed forces during World War II. Alex Blavatnik, a 1986 graduate of Miami University, is executive director of the Blavatnik Archive.
The Havighurst Center, library, and Hillel will host two events in conjunction with the exhibit. The symposium War, Revolution and Jewish Life in Russia will be held at 3 p.m. on Friday, Nov. 3 at the King Library, followed by a Russian-themed Shabbat service and dinner at 6 p.m. at the Hillel Building, 11 E. Walnut St. R.S.V.P. to admin@muhillel.org.
llya Yablokov, teaching fellow in Russian studies at the University of Leeds, will present the lecture Conspiracy Theories and Revolution in Post-Soviet Russia at 4 p.m. on Tuesday, Nov. 7 at the King Library. "Our goal is not to celebrate the centenary of 1917 but to use this anniversary as a means to think about how it shaped our contemporary world," said Dr. Stephen Norris, interim director of the Havighurst Center.
To read the complete November 2017 Dayton Jewish Observer, click here.