Happy tummies, Shabbat dinner through Kiddush lunch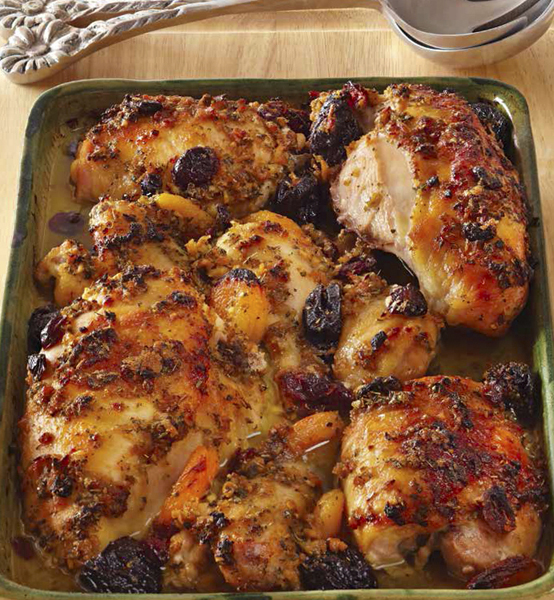 Shabbat Dinner Chicken with Dried Fruit
By Elizabeth Kurtz, The Nosher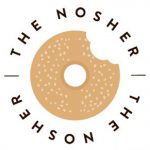 I have served this chicken for years, and it's a go-to for a quick and easy Shabbat recipe. The chicken gets caramelized from the glossy and delicious sauce. It's best when marinated overnight, so be sure to plan ahead and start it early.
This recipe is excerpted from Celebrate: Food, Family, Shabbos, by Elizabeth Kurtz.
1/2 cup orange juice
1 cup dried apricots, prunes, or a combination of any dried fruit
12 cloves garlic, minced
1/2-inch piece fresh ginger, peeled and finely chopped (about 11/2 Tbsp.)
2 Tbsp. dried oregano
1 Tbsp. dried thyme
1/3 cup red wine vinegar
3 Tbsp. extra-virgin olive oil
11/2 Tbsp. fresh lemon juice
2 bay leaves
2 (3- to 4-lb.) chickens, cut into eight pieces
11/2 Tbsp. kosher salt
1/2 Tbsp. ground black pepper
1/2 cup packed light brown sugar
1/2 cup white wine
In a small bowl, pour orange juice over dried fruit and let soak to plump the fruit, about 10 minutes. In a separate small bowl, whisk together garlic, ginger, oregano, thyme, vinegar, olive oil, lemon juice, and bay leaves.
Place chickens in two roasting pans. Pour marinade equally over each chicken and massage into chicken. Add orange juice and fruit mixture equally to each roasting pan.
Cover pans and marinate in the refrigerator for four hours or overnight.
Preheat oven to 375 degrees. Sprinkle chicken with salt and pepper, and then drizzle equally with brown sugar and white wine.
Bake until chicken is nicely browned on top and registers 165 degrees in the thickest part of the thigh, about one hour and 15 minutes.
Serve with pan juices and dried fruit.
Note: This dish is perfect as-is for Passover.
The chicken tastes best when marinated a minimum of four hours and preferably overnight.
Can be prepared two days ahead of time. Store, covered, in the refrigerator or freeze up to three months. Defrost in the refrigerator. Rewarm, covered, in a warming drawer or 300- degree oven. Serves eight.
Elizabeth Kurtz is the creator of the website gourmetkoshercooking.com.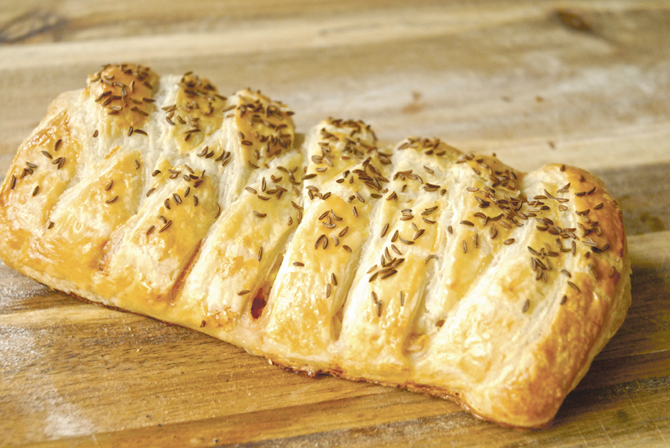 Kiddush Lunch Pastrami Puff Pastry
By Shannon Sarna, The Nosher
Are you a deli roll lover? You know deli roll — the beloved Jewish-American dish where various deli meats and Russian dressing get all wrapped up inside puff pastry for a guilt-inducing Shabbat Kiddush dish. It's almost like a deli sandwich-knish hybrid.
I never grew up eating deli roll, but when I tried it at a friend's house many years ago, I simultaneously thought: This is so unhealthy, yet I just want more. And so it was just a matter of time before I worked on my own version.
This pastrami strudel braid is just a tad fancier than your average deli roll, with the sides cut and folded up to create a braid-like top.
I brush the top with egg wash and sprinkled on some caraway seeds, but you could also add sesame seeds or poppy seeds (or nothing at all) if caraway isn't your thing.
2 sheets puff pastry, thawed in the refrigerator for 2 hours and then left at room temperature for 20 minutes
1/2 lb. sliced pastrami (can also use corned beef or a combination)
2/3 cup sauerkraut, drained
1/2 cup mayonnaise
3 Tbsp. ketchup
1 Tbsp. relish
dash Worcestershire sauce
dash of hot sauce
spicy brown mustard
1 egg, beaten
caraway seeds (optional)
Preheat oven to 400 degrees.
Line a baking sheet with parchment paper or Silpat.
In a small bowl mix together mayonnaise, ketchup, relish, Worcestershire sauce and hot sauce. Add mustard if desired.
Remove each sheet of puff pastry and place on work surface. Make slits in the bottom and the top.
Spread thin layer of sauce on bottom. Top with a quarter pound of pastrami. Add one third cup sauerkraut.
Cut equal size and number of strips along each side. Fold strips up and across the filling, forming a braid. Repeat with other piece of puff pastry.
Brush each strudel braid with egg wash. Top with caraway seeds if desired.
Bake for 24 to 27 minutes, until golden on top. Allow to cool. Can be reheated when ready to serve.
Yields two pastrami strudel braids.
Shannon Sarna is the editor of The Nosher.
To read the complete November 2017 Dayton Jewish Observer, click here.