David Moss offers Grace After Meals in comic book form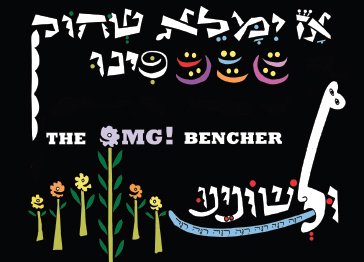 By Marc Katz, Special To The Dayton Jewish Observer
He started a trend with illuminated, custom-designed ketubot (Jewish marriage contracts), published an exquisite Passover Haggadah, and created a masterfully carved shtender (prayer stand) to be used for Shabbat, holidays, and every day.
Now, Jerusalem-based David Moss has created a bencher — a booklet with the Grace After Meals — camouflaged as a comic book that can be used for adults as well as children. Its easy-to-understand translations and commentary help the user better connect with this daily prayer.
He calls it The OMG! Bencher.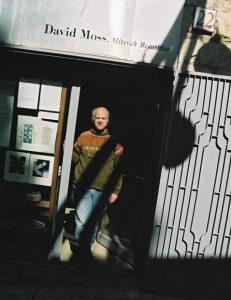 "I taught from these comic books for the first time at Camp Ramah in California," native Daytonian David said by e-mail from his Jerusalem home and studio. "The responses were phenomenal. One class of 11-year-old girls literally begged and pleaded for me to come back and teach them more. I've never had that reaction in a class before. They were just so delighted to finally understand the meaning of the words of this prayer that they have been rattling off by memory for years. This was exactly the reason I created this work."
David took a circuitous route to Orthodox Judaism and Jerusalem from his roots as a Reform Jew in Dayton. He learned much from his inventive father, Jack Moss.
His sister, Meredith Moss Levinson, said David was always interested in Judaism; he gave tours of Temple Israel on Salem Avenue to non-Jewish groups. It was when he attended St. John's College in Santa Fe, N.M. that he began to follow a more traditional path to how he lives, and where.
At St. John's, David also learned from Rabbi Abraham Shinedling, who visited from the Los Alamos Jewish Center. He was "a wonderful teacher," David said, "and I began to study Hebrew with him. Yet there was no one in Santa Fe in those days from whom I felt I could learn the ancient ways of my people. That was a quest I had to do very much on my own. And I began that quest."
David also studied at Hebrew University in Jerusalem and Jewish Theological Seminary in New York.
Along the way, he found his niche in the art world. While he has created many stunning pieces of Judaica, David has never stopped to rank them as to his favorites or most meaningful.
"No favorites," he said in an e-mail. "I don't have a favorite child (he has four, and several grandchildren), either."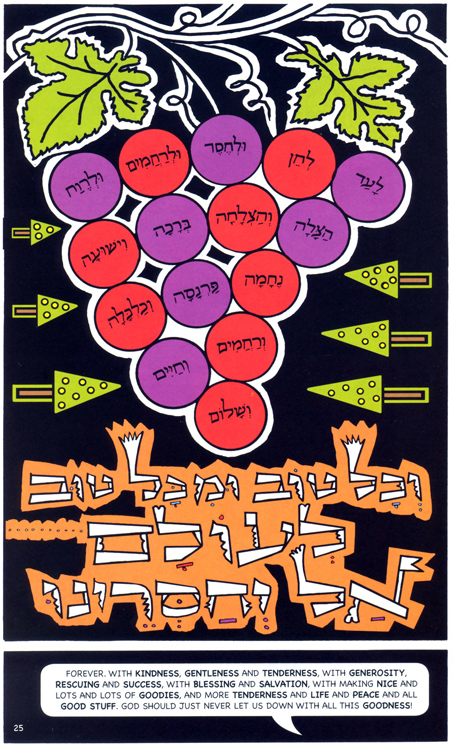 In his notes that accompany the bencher, David explained that he has been guilty of rushing through the meal-ending prayers and, "I'm often anxious to get up from the table and back to my activities…This is all a pity, for there is so much beauty and meaning in this very graceful Grace after Meals. I felt it deserved better."
He and his staff produced the colorful bencher, with English translations and question-and-answer lines that explain the meanings of every passage of the grace.
Included in the comic book are the Sheva Brachot, the Seven Blessings said during the wedding ceremony, with the Grace After Meals after the wedding, and after the couple's dinners over the next seven days.
The OMG! Bencher joins an impressive list of artistic accomplishments by David, who has established a "minyan subscription plan" that he originally thought would involve 10 subscribers who would pay in advance at a deep discount for three to four of his works a year.
The "minyan" is several times bigger than he expected, which gives David the funding to produce even more art. Among subscribers are the libraries of Yale University, Hebrew Union College-Jewish Institute of Religion, and the University of California, Berkley.
At age 71, David is hardly finished learning or producing artworks.
"My current projects-to-do list has 254 items on it, large and small," David said. This includes a teacher's institute for the arts, architectural projects, and a Garden of Jewish Exploration, "where visitors can confront, explore and interact with our most basic Jewish values through experiential, creative and aesthetic encounters."
To read the complete October 2017 Dayton Jewish Observer, click here.