Former Butler County magistrate claims she was fired for being Jewish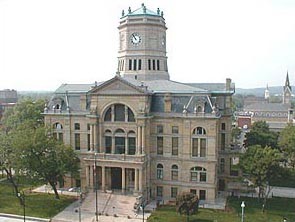 By Alyssa Schmitt, Cleveland Jewish News
A former Butler County magistrate has sued the county and a common pleas court judge, alleging she was required to use vacation days to observe Jewish holidays, and was also discriminated against for being Jewish.
Kimberley Edelstein of Cincinnati filed a discrimination lawsuit May 5 claiming Judge Greg Stephens terminated her employment when she asked to take off eight days to celebrate Jewish holidays in October 2016, according to the lawsuit. She is seeking more than $1 million in damages.
"At this point, all I can say is there is no merit to the allegation she is saying," Stephens said. He declined further comment.
Butler County does not have a policy that accommodates holiday time off for members of non-Christian faiths.
Prosecuting Attorney Mike Gmoser and Assistant Prosecutor Dan Ferguson also are named in the suit. According to the lawsuit, Gmoser and Ferguson spoke poorly about Edelstein with Stephens and to prospective employers.
Gmoser said he was not Edelstein's direct supervisor, but that his office often works with Stephens' office.
"If people have a gripe about something, I want to know about it," Gmoser said. "If there's a problem, we talk it out. This goes to the core of who we are, we do not discriminate. I do not discriminate against race, religion, sex or politics."
Stephens hired Daniel Gehr to fill Edelstein's position.
"I wouldn't be working here if I felt any discrimination," said Gehr, who is Jewish. He declined further comment citing of pending litigation.
Edelstein was employed as an attorney and magistrate for more than eight years by Butler County and served on the staff of Judge Patricia Oney, according to the lawsuit.
When Oney retired, Stephens took the position and hired Edelstein as his magistrate in February 2016, according to the lawsuit. They both agreed to a three-month notice if either party wanted to end the employment relationship.
After talking to Stephens about requesting time off, Edelstein informed the staff on July 28 in an email she would be taking off days in October, according to the lawsuit.
Two business days later, on Aug. 1, Stephens informed Edelstein of her termination and told her to clean and leave the office by noon.
When Edelstein looked for employment, Stephens provided false and negative comments about her, she said in the lawsuit.
Edelstein seeks $300,000 each for compensatory and punitive damages of loss of income, liquidated damages and for emotional distress, according to the lawsuit.
She is also seeking $25,000 each for malice by Gmoser and Stephens; $25,000 for defamation by Stephens; $5,000 for unlawful termination; $25,000 for unlawful termination based on religious discrimination; and $16,709 for breach of contract.
In February, Edelstein filed a charge of discrimination with the U.S. Equal Employment Opportunity Commission, which was unable to resolve the problem issuing a notice of the right to sue.
Attempts to reach Edelstein by email and telephone for comment were unsuccessful.
To read the complete June 2017 Dayton Jewish Observer, click here.