Conference brings Holocaust, genocide educators from across Ohio to Dayton region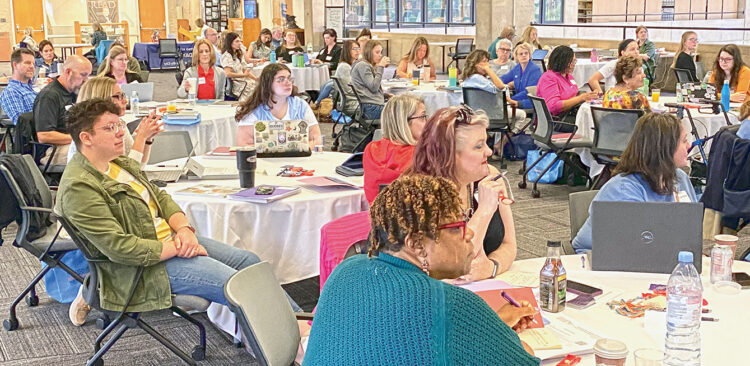 Story and Photos By Marshall Weiss, The Dayton Jewish Observer
More than 60 middle and high school educators from across Ohio who teach about the Holocaust and genocide gathered in the Dayton area June 13 and 14 to participate in the Holocaust and Genocide Education Network of Ohio's summer conference.
"Sometimes you go back to your school and you're the only person doing this," said HGEN President Tim Murnen, a professor of education at Bowling Green State University, in his opening remarks at Wright State University's Dunbar Library. "After these two days are over, we'd like to build a Holocaust educator network across the state to give each other support in this work."
With the theme Courage, Knowledge, and Community, the conference — which was free to educators — was the idea of Dayton Holocaust Committee Chair Renate Frydman, founder and director of the Dayton Holocaust Resource Center, housed at Wright State's Dunbar Library.
"Really, the reason we are all here in Dayton today is because of Renate, because of the work that she's done forever," Murnen said.
"We want to learn new things, we want to talk to each other," Frydman told the teachers. " I know you're making students' lives better."
The keynote speaker for the conference was Laura Houghton, education coordinator of the U.S. Holocaust Memorial Museum in Washington, D.C.
Houghton talked about the museum's resources for teachers — including ready-to-go lessons and the museum's guidelines for teaching about the Holocaust. She also facilitated a discussion about teachers' first-person experiences and classroom situations.
Other conference speakers addressed bullying, racism, antisemitism, book banning, and various aspects of the Holocaust and genocide.
Conference attendees visited the Dayton Holocaust Resource Center and toured Prejudice and Memory: A Holocaust Exhibit, on permanent display at the National Museum of the U.S. Air Force. Frydman curated the exhibit, which has been on display there for 24 years and was renovated last year.
Day two of HGEN's conference was held at the Dayton Metro Library Downtown, which hosted the traveling version of the U.S. Holocaust Memorial Museum's Americans and the Holocaust exhibit in May and June, its only stop in Ohio on its first tour.
HGEN was established in 1986 as an initiative of then-Gov. Richard Celeste's administration.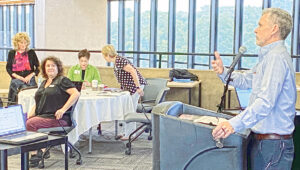 To read the complete August 2023 Dayton Jewish Observer, click here.