With hospital rotations on hold, med student volunteers for public health dept.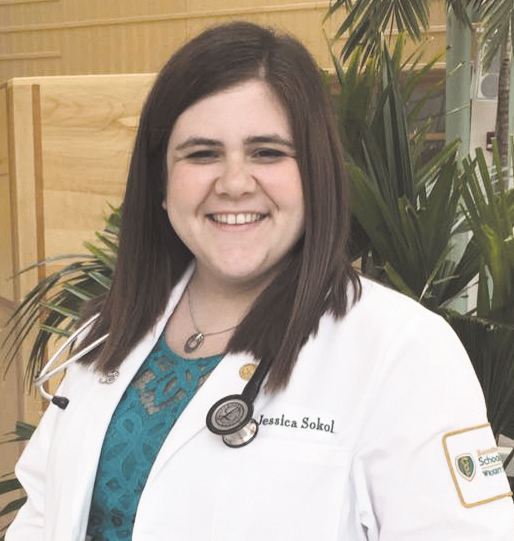 With hospital rotations on hold because of the coronavirus this semester, Jessica Sokol, a third-year student with Wright State University Boonshoft School of Medicine, is volunteering as assistant to Dr. Michael Dohn, medical director of Public Health — Dayton and Montgomery County.
"I'm helping out with projects that he works on," said Sokol, originally from San Antonio. She began at the health department on March 23.
"I attend a lot of meetings and conference calls within the health department and with the state: getting updated, making sure we know what other counties are doing. I occasionally help with the hotline that people call into when they have questions or report businesses that are not complying with the state orders."
She works with the team that establishes procedures for public health employees and first responders about what to do if they get sick, and what personal protection equipment they should wear. She's also assisted on a weekly Facebook Live event, Ask the Doc, with Dayton Mayor Nan Whaley and Dohn, who answers viewers' questions.
Sokol knew Dohn from his guest lectures in some of her classes; through the medical school's Physician Leadership Development Program, she received her master's degree in public health as part of her five-year medical degree program.
Two months ago, she reached out to Dohn to set up an elective with him for spring 2021.
"And then, when all of this craziness happened, he reached out to me," Sokol said. "He asked me if I was free to come and volunteer with him now, since I'm not working in a hospital, which is what I would be doing right now."
Sokol's understanding is that hospitals don't want to use their limited personal protective equipment on medical students. "Someone else has to see the patients that we see anyway. We don't want to be a drain on the supplies."
Along with her three nine-hour days each week with the health department, Sokol keeps up with her medical school classes, all online this semester.
"They were calling it fourth-year boot camp, sessions to get us ready for our fourth year of medical school, for applying for residencies. I'll go more to the health department once I have more free time, in May."
She plans to practice family medicine.
The health department also has her organizing other medical students to come for monthly volunteer rotations there. Sokol helps coordinate their work too.
"We want students to have learning opportunities, and they can't be in the hospital," she said.
— Marshall Weiss
To read the complete May 2020 Dayton Jewish Observer, click here.