Yellow Springs Havurah continues to adapt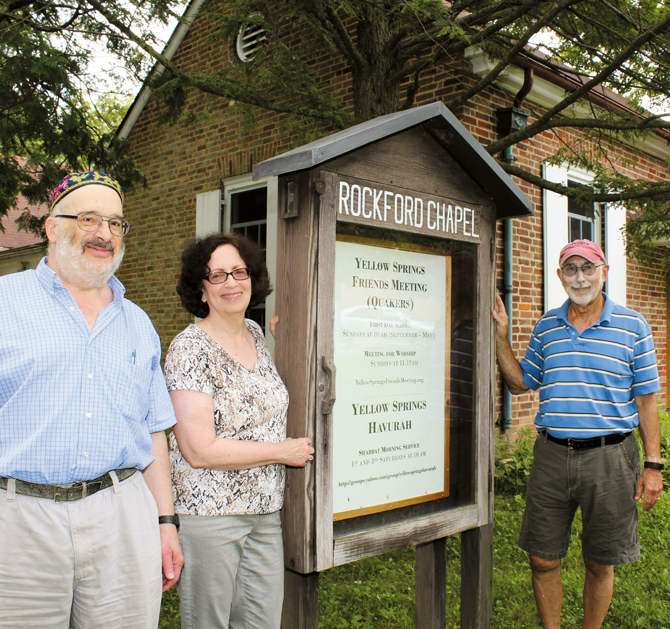 By Marshall Weiss, The Dayton Jewish Observer
Among its current members, no one is sure exactly when the Yellow Springs Havurah was born.
New Yorker Len Kramer moved to Yellow Springs in 1968 after he graduated college and took an engineering job at Wright-Patterson Air Force Base.
"Maybe 10 years later, we were very friendly with Gary and Helen Klein," Len recalls. "And they wanted to start services and Jewish education. So we formed a loose group that I think may have morphed into the havurah."
"And we had services here on Friday evenings," he says, sitting in Rockford Chapel on the Antioch College campus, where the havurah continues to lead services, now two Saturday mornings each month.
"We started a Hebrew school for the kids, the teachers were the Damasers, Harvey and Esther," Len says. "We started this little group, we did all kinds of Jewish education for ourselves too. We associated with a rabbi, then a young man, at Temple Sholom (in Springfield)."
But as parents began to enroll their children in area temples, the havurah went into a hiatus. This was when Len dropped out.
It picked up again in 1995, with another generation of young families.
Geriatrics physician Dr. Abi Katz was in that cohort. She and her first husband graduated from Antioch; they settled in Yellow Springs in 1987 when he went to work for YSI.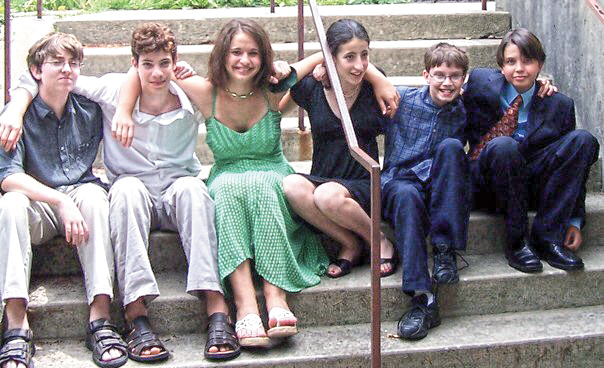 Abi and her friend from Antioch, Morissa Fregeau — who also lived in Yellow Springs after graduation — decided to organize Jewish programming like they had when they were in college.
"That was the same year the Rothmans moved back from Israel and it happened that they were literally across the street and so they were a part of the conversation," Abi says, "and I think Toni Dosik and Cheryl Levine were next, and so we started a small work group and did a High Holiday service, and lots of negotiation around how observant it should be or not."
In the late 1990s, Rabbis Nochum Mangel and Shmuel Klatzkin of Chabad led study sessions; the late Rabbi Marianne Gevirtz of Temple Sholom also taught classes and helped lead services.
The havurah tracked down members of the former group and encouraged them to participate. Len facilitated some planning sessions for the havurah in the late 1990s, got to know some of the members, and joined.
Today's Yellow Springs Havurah — with about 15 active members and approximately 50 on the mailing list — is a continuation of that 1995 group.
Since then, the group has waxed and waned as each generation of children has grown up and moved on, and as families with children have moved to and from the area.
And with it, the havurah (Hebrew for fellowship) has adapted to the needs of its members. The priority of Jewish education for children has shifted in recent years to building bridges with other faith communities in Yellow Springs.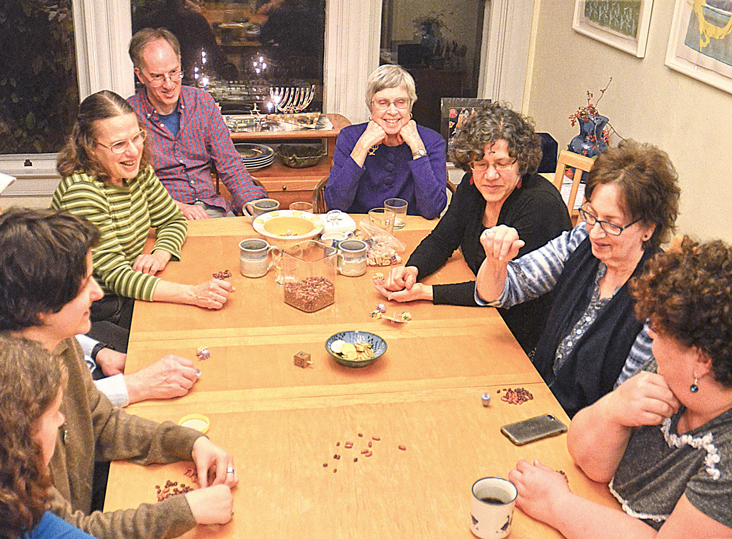 But the Shabbat service has continued as the prime force for Jews seeking connections to one another and to their spirituality in this hippy-centric village of approximately 3,500 people, 20 miles east of Dayton.
"Services are not really led at this point, except when there's a larger group — we'll look toward Len to keep us on track — but if there are much fewer people, it's whoever speaks up first or starts a tune in which key they want to start in," says Larry Turyn, a retired professor of mathematics and statistics at Wright State. Another New York area native, Larry has lived in Yellow Springs since 1986 and was part of the mid-1990s havurah revival. He's also a member of Temple Sholom in Springfield, 10 miles northeast of Yellow Springs.
The Siddur (prayer book) the havurah uses is based on a Shabbat morning service organized for a Bar Mitzvah there nearly 20 years ago. It's an amalgam of materials from Reform, Reconstructing, Conservative, and Jewish Renewal liturgical resources. Havurah members recite aloud from optional readings based on what moves a particular worshiper at the moment.
"When we sing, we are a 'leaderful' group," says Linda Chernick, native of Columbus who grew up in Springfield. A retired fundraising professional, Chernick moved to Yellow Springs four years ago after 42 years in Boston.
"There are a few people that are really skilled at chanting Torah for us, so they are key."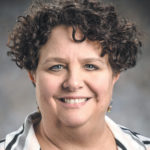 Abi says the havurah doesn't align with a particular Jewish religious movement, an attempt to be as inclusive as possible.
The havurah has two Torahs, a non-Kosher scroll that United Theological Seminary donated, and one on long-term loan from a Dayton synagogue; they are housed in a wooden ark built by Dayton's Dr. Burt Saidel.
Each Saturday morning Shabbat service includes three readings from that week's Torah portion.
"They're not all necessarily read from the Torah," Larry says. "If we're short on people who are signed up to chant, we'll read from the Chumash," the printed and bound volume of the Torah.
Right now, there's only one family in the havurah with a young child.
"To me," Linda says, "it seems to mirror the village at large, because we are an aging community — not entirely — but a lot of people choose to retire here or come back here because they loved it."
Len adds that members who hadn't been active in several years are coming around again.
"Over time," Abi says, "just like every other community, there's attrition and I suppose there are other Jews in Yellow Springs that may just do their own thing."
She says the havurah is now about "how do we involve ourselves in the community and what else can we do to be a part of the broader fabric?"
The havurah, Abi says, is a key reason she returned to Yellow Springs.
In 2008, she undertook a fellowship in hospice medicine at the University of South Florida. From there, she moved to California for five years.
"I had tried a whole bunch of Jewish communities," she says. "But nothing felt like I could have that sense of community, and so a big piece of the draw of coming home was that the havurah was there, and that was a community that I could be in and have that spiritual connection."
Abi bakes challah for the havurah's potluck kiddush lunch that follows each service.
Len says that when he comes to services, he gets a feeling of community that's very strong.
"And I feel really good about that. That's my concept of God. I feel fulfilled."
Larry adds that he generally feels more peaceful during and after a service, so he tends to go to services often, both with the havurah and at Temple Sholom in Springfield.
"The havurah tends to have, like any other organization in Yellow Springs, an orientation toward social justice and an interest in politics," Larry says, "but having that from a Jewish perspective, connecting it to the Torah readings, the readings that are in the Siddur."
"After the 2016 election," Abi says, "it felt really imperative to do things that were community building and that's how our connection to the 365 Project got started."
The 365 Project encourages Yellow Springs citizens to engage in conversations that promote diversity, culture, and educational equity.
Abi and new havurah member Rabbi Joshua Krulwich-Klatt — a chaplain with Ohio's Hospice of Dayton — led an end of life talk for 365 with a focus on Jewish themes and perspectives, sponsored by the Yellow Springs Senior Center.
"Lots of people have asked us to do more, to continue the conversation," Abi says.
Len notes that in the wake of increasing acts of antisemitism in the United States — even before the Tree of Life shootings in Pittsburgh — the general community in Yellow Springs has begun looking to the havurah as the voice of the village's Jewish community.
"We're starting to be seen that way," Len says. "We're also becoming integrated in with the other faith communities in Yellow Springs."
"We were on the itinerary for the 365 Project's tour of faith institutions in Yellow Springs," Larry says. "They came to Rockford Chapel partly for the Friends, partly for us." They opened a Torah to show tour participants.
Linda adds the havurah also held an informal gathering after the Tree of Life shootings.
"For me, being part of the local Jewish community is key, above and beyond religious services or holidays," Linda says. "Just being able to be with a group that identifies as Jewish in these times feels extremely important."
The Yellow Springs Havurah holds Shabbat services on the first and third Saturdays each month, from 10 a.m. to noon at Rockford Chapel, Antioch College. For more information, contact Len Kramer, 937-572-4840 or len2654@gmail.com.
To read the complete August 2019 Dayton Jewish Observer, click here.