Disturbing the Peace examines how enemies can forgive, move forward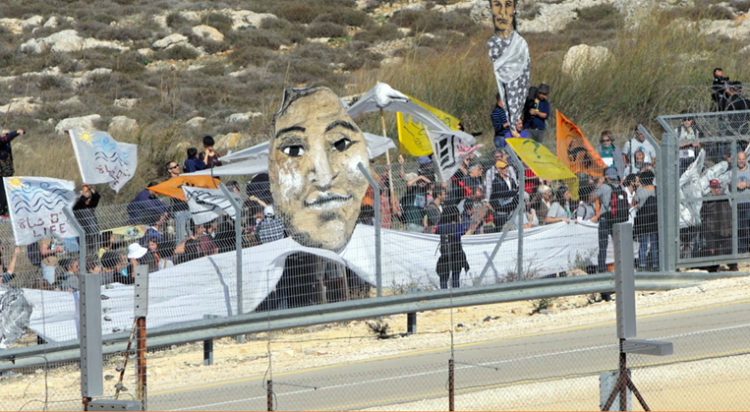 By Tom Tugend, Los Angeles Jewish Journal
Disturbing the Peace might as justifiably be called Disturbing the Fighting. The 2016 documentary follows a group called Combatants for Peace, consisting mainly of former Israeli soldiers and their former Palestinian enemies, now jointly searching for a path toward ending their long conflict.
Fairly typical of the group's membership are co-founders Chen Alon and Suliman al-Khatib. The latter joined Fatah at 13 and one year later was arrested for attacking two Israelis and sentenced to 10 years in an Israeli prison.
Alon served four years in the Israeli army, followed by 10 years as an operations officer in the reserves. Subsequently, he signed a petition by Israeli soldiers and officers refusing to serve in the West Bank. He now works as a theatre director and lecturer at Tel Aviv University.
The founders and first adherents of the nascent peace group met in 2005, spent a year building mutual trust, using as one tool a technique pioneered by the South African Truth and Reconciliation Commission, in which former enemies owned up to their transgressions.
"I helped destroy a Palestinian village," acknowledges a former Israeli soldier in the film. "I killed two Israelis," says his Palestinian counterpart.
In 2006, the small group felt strong enough to go public, according to Stephen Apkon, the film's co-director with fellow American Andrew Young, who doubled as cinematographer.
Such mutual confidences also yielded clues to the individual process of transformation. One Palestinian, for instance, said that while imprisoned, he saw Schindler's List and started feeling some compassion for the Jews and later tried to understand what motivated the Israelis.
Apkon said the peace group counts close to 300 active members, equally divided between Israelis and Palestinians and organized in eight regional chapters in such towns as Tel Aviv and Tulkarem, Jerusalem and Hebron.
He and co-producer Marcina Hale will screen Disturbing the Peace in Dayton on Feb. 8 and will lead a conflict resolution workshop on Feb. 11, both sponsored by Oakwood's Wright Memorial Public Library.
Although the Combatants for Peace's demonstrations and memorial services for the victims on both sides draw several thousand people, according to Apkon, the group is not nearly as large and well-known as the Peace Now movement in Israel and its allies in the Diaspora.
However, Apkon argues, the Combatants group draws its credibility through the men and women who once put their lives on the line in fighting one another and have now joined forces, braving the frequent contempt and hostility of their compatriots on both sides. Considerable segments of the Israeli population and government view the group as far left and an apologist for enemies of the Jewish state.
Apkon, founder of the Jacob Burns Film Center in Pleasantville, N.Y., invested four years — and considerable emotion — in directing and producing Disturbing the Peace.
The film's title derives partially from a scene toward the end, in which chanting Israeli and Palestinian demonstrators with colorful banners, puppets, and a marching band break through a symbolic wall separating them.
Members of a platoon of Israeli soldiers, watching the goings-on warily, are then invited to take off their uniforms and join the demonstration. Eventually, though, the soldiers arrest the two leaders, one from each ethnic group, charging them with "disturbing the peace."
Apkon interprets this charge as, in fact, "disturbing the status quo," and cites such other "disturbers" as Mahatma Gandhi, Martin Luther King Jr. and Nelson Mandela.
Interspersing narrations, interviews and newsreel footage with occasional reenactments, the film shows reconciliation between former enemies, but also conflict within the same family.
When Jamel Qassas, whose brother was killed by Israeli soldiers during the First Intifada, tells his wife, Fatima, that he wants to take their children to a peace demonstration, she objects heatedly. "The Israelis took our house," she argues, "but let us use the bathroom."
Ultimately, the key to reconciliation between enemies, not only in the Middle East but across the globe, is to realize the cliché of "standing in another man's shoes," Apkon believes.
He cites an old news story about the struggle between Catholics and Protestants in Northern Ireland, during which a school was bombed and destroyed. One of the few things left in the rubble was a poster that read, "If you were born where they were born, and you were taught what they were taught, you'd believe what they believe."
Wright Memorial Public Library will screen the documentary Disturbing The Peace at 7 p.m. on Thursday, Feb. 8 in Sears Recital Hall at the Jesse Philips Humanities Center on the University of Dayton Campus. Producer/Co-director Stephen Apkon and Co-producer Marcina Hale will lead a Q&A after the film.
Apkon and Hale will facilitate a workshop about conflict resolution from 1:30-4:30 p.m. on Sunday, Feb. 11 at Wright Memorial Public Library, 1776 Far Hills Ave., Oakwood. To register for the free event, call 294-7171.
To read the complete February 2018 Dayton Jewish Observer, click here.