Dayton area Jewish organizations increase security, will hold community memorial Tuesday night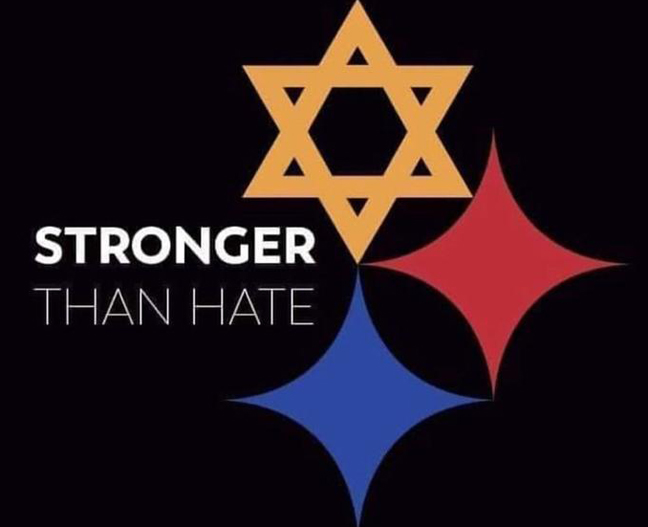 By Marshall Weiss, The Dayton Jewish Observer
Parents and children arriving this morning for the JCC's Early Childhood Program at the Boonshoft Center for Jewish Culture and Education in Centerville were greeted by a Centerville Police vehicle at the front door. What normally might be a cause for concern was a sign of comfort two days after the antisemitic shooting deaths of 11 Jews at the Tree of Life synagogue in Pittsburgh's Squirrel Hill neighborhood.
The Dayton area's Jewish community organizations came out of the weekend with increased security measures and reevaluating already high levels of coordinated security precautions. Law enforcement at all levels have increased their patrols of local Jewish community buildings.
"The Jewish Federation is now, as always, committed to working with all in Dayton's Jewish community to ensure that every Jew in the area feels safe and is secure," was the message in a Sunday afternoon statement from the Jewish Federation of Greater Dayton. "As each of us transitions from experiencing the immediate shock of Saturday's news to discussing how best to protect our community, we continue to collaborate with local and national law enforcement professionals to identify the best possible security protocols for all local Jewish gathering places."
Hours after the shooting, Temple Beth Or posted at its Facebook page that it was "working with local law enforcement to take extra precautions for events at our Temple this weekend."
A Montgomery County Sheriff's officer and vehicle were present on Temple Beth Or's campus for its Sunday programs and religious school.
Temple Israel's Sunday afternoon statement said that it is working in close partnership with the Dayton Police Department and FBI, and regularly reviews its security procedures and implements improvements based on law-enforcement recommendations.
"Our Temple Israel leadership takes matters of security very seriously, working diligently to ensure the safety of our students, our worshipers, and our clergy and staff," its statement said. "In the past few years we have spent money on securing the synagogue and upgraded cameras and security protocols. Additionally, local police officers have trained both our teachers and our board in 'Run, Hide, Fight.'"
Chabad of Greater Dayton's Rabbi Nochum Mangel offered thanks in his Sunday afternoon statement to "all law enforcement agencies, city, state, and federal, including our local Oakwood Police Department. We are grateful to them always, doing everything in their power every day to protect and safeguard all citizens."
Beth Abraham Synagogue President Mike Freed's Sunday evening statement said that the synagogue has begun initial discussions to reevaluate its safety procedures and will work with appropriate agencies to determine what additional measures it can take.
"We regularly address the safety and security of our building and congregation," Freed wrote. "The synagogue has worked closely with law enforcement personnel from the City of Oakwood, Montgomery County and the FBI to assess security protocols for Beth Abraham. We have implemented numerous changes as a result of these efforts."
In a Facebook thread Saturday evening, one local Jewish parent asked how she can answer her son's questions about the antisemitic shooting spree.
Temple Beth Or's Rabbi Judy Chessin responded: "Please tell him that Jews have always remained strong because we have each other. We will gather together tomorrow as a community and pray in minyan and name new babies and affirm life — even if we are scared. Tell him about the outpouring of love and support we've received from our local churches, ministers, neighbors and friends. It truly has been astounding. 'Look for the helpers!' There are so many! And the Dayton Jewish community has been blessed with a lion's share!"
The Miami Valley's Jewish community will host a community gathering in memory of the victims of the Pittsburgh shooting at 7 p.m. on Tuesday, Oct. 30 at Temple Israel, 130 Riverside Dr., Dayton.