Dayton's young Olim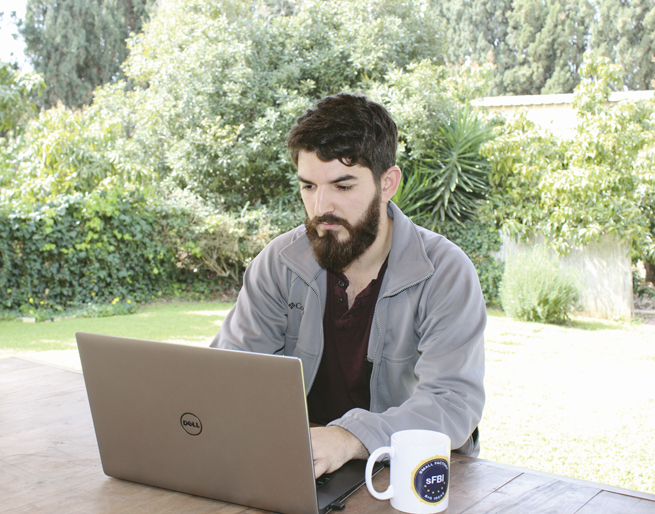 Startup generation talks opportunities and obstacles of life in the Jewish state
Story and Photos By Marshall Weiss, The Dayton Jewish Observer
Lazer Mangel says Israel is the land of paradoxes.
"It's both one of the happiest places in the world, it's also one of the most tense. And it's where people will have no issue yelling at you if they take issue with your behavior," says the 24-year-old, who moved to Israel at age 19.
"It's the land of high tech and startups and business, and it's also the place where people spend all day at coffee shops and strolling around the beach. It's this land of peace and this land of war."
Lazer, the son of Devorah and Rabbi Nochum Mangel of Chabad of Greater Dayton, is one of three young Daytonians who have made Aliyah — immigrated to Israel — in recent years and have navigated these paradoxes to ride Israel's startup wave.
For these Olim (those who have made Aliyah), overcoming obstacles and attaining success have required them to build up their chutzpah (audacity) reserves to match that of Israelis: the legendary quality that built and defends the Jewish state to this day.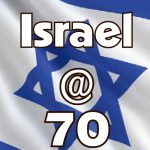 "I wasn't intending to make Aliyah," Lazer says. "I was intending to go into the army and I came with $400 in my pocket, which is just not enough."
When Lazer ran out of money, that's when he decided to make Aliyah, since he was going to join the army anyway. As an Oleh (one who made Aliyah), he was given a year until his draft. He needed a job.
"I walked all the way down Jaffa Road in Jerusalem and walked into every restaurant and shop and I said, 'Hey, do you need anyone to work?'"
After working in a restaurant kitchen for about a year, he met the marketing director of Mayanot, an operator of Birthright Israel's free 10-day trips for American Jews ages 18-26.
"I annoyed him for about four months, five months, he gave me a job," Lazer says. "I talked my way into a job with him, first just handling the social media, the organic, the regular posts. And I had absolutely no idea what I was doing. I had no formal training. I barely graduated Oakwood High School. I never went to college."
He learned as he went. Over the year he worked for Mayanot, Lazer convinced them that he could do a better job than the ad agency they were paying, so he took over Mayanot's paid social media.
Through that, he ultimately managed to get drafted into the IDF Spokesperson's Unit, a process he described as "classic Israel."
Because he was healthy, Lazer was told he would have to draft to a combat unit.
"I went to the military psychologist and I told him I wanted to be in the Spokesperson's Unit, and I got myself an exemption for combat based on mental health," Lazer says. "In Israel we call it combina. You have this goal, so you do anything possible to make it happen. So the psychologist told me, 'Hey, will it help you if I give you an exemption based on this? Will it get you where you want?' I said yes. He said, 'perfect, I'll mark this paper, and go for it.'"
For 22 months, Lazer coordinated English language social media for the IDF Spokesperson's Unit as part of a team that managed the IDF's Facebook, Twitter, Instagram, blog, and YouTube.
"It gave me the opportunity to really travel," Lazer says. "I think I slept on 17 different army bases. I've seen almost every part of the army. It was one of the few jobs in the army where as opposed to being dictated to, I'd say, 'I want to do an article on this, and I think it's going to be valuable because of X, Y, and Z,' and then make a couple of phone calls and I was doing it."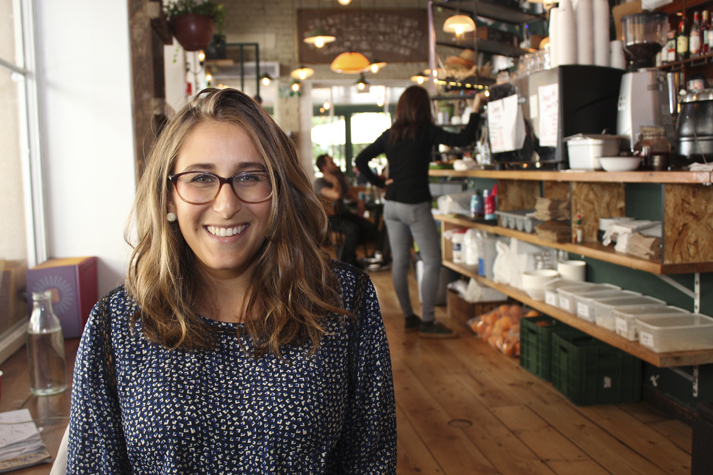 "I didn't have a really close relationship with Israel growing up," Sara Klaben Avrahami, 30, says at a café she frequents in the center of Tel Aviv. "I had a really strong connection to the Jewish community and being a Jewish American, I had come a few times as a kid. I came when I was 16 for a five-week program through NFTY. But I didn't have a really strong connection."
The daughter of Marilyn and Larry Klaben, Sara attended Vandalia-Butler High School. After she graduated from the University of Miami in Florida, Sara considered volunteering for six months in India or Israel. She chose Israel.
"I did a volunteer program through Masa," she says. "I lived in South Tel Aviv. It was a very liberal program. I taught English at a high school, I worked at a kindergarten with migrant workers' children, and I worked with African refugees, helping them in various situations when they just arrived.
"The whole concept was that you live not in the center of Tel Aviv where we are now, but you live in the epicenter of these situations, for example, where the migrant workers' kids and the African refugees are."
During that time, Sara says, she began to find herself.
"I really appreciated the way of life, the pace."
With her Masa program completed, she did go to India for a few months with a friend from Ohio. That's where she met her future husband, Amit Avrahami, an Israeli from Jerusalem, who was traveling with his friends.
After a period of time to consider whether to live in the United States or Israel, Sara decided to pursue a master's degree in organizational development at the Interdisciplinary Center Herzliya college, an English language program. "I've been here ever since," she says.
Sara chose to make Aliyah while she was in grad school. Today, she freelances for a startup that provides on-demand business services for clients around the world. She's also developing her own startup: an all-inclusive rent model that allows the client to pay rent on a monthly basis, with access to apartments in different cities.
"We're working on a pilot right now that's going to start in June with 20 members in five different cities: London, Tel Aviv, New York, Barcelona, and Berlin."
It's a project based on her own experiences; Sara and her husband both work remotely and travel extensively.
"It wasn't an easy decision for me," she says of Aliyah. "I felt really torn. Those first two years are the hardest. You don't know anything, you don't know the language, you don't know how to get anything done, you don't know the system."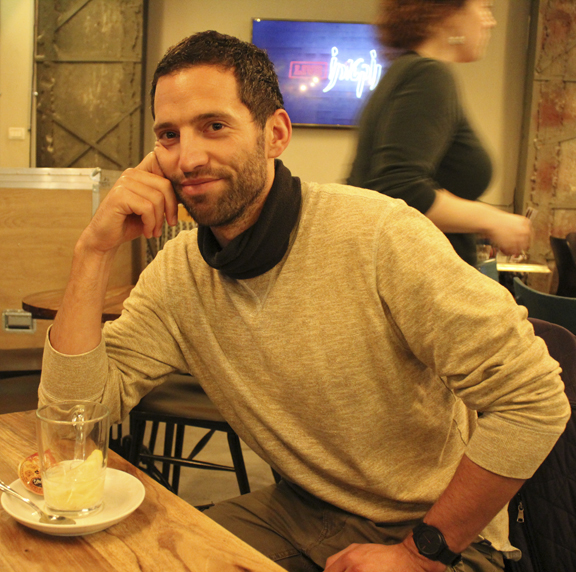 "I can't believe I'm getting interviewed by the Jewish paper," says Sam Schubert, 30, sitting at the café where he worked early on, in Jerusalem's bohemian Nachlaot neighborhood, where he lives. "It's the last thing I would ever imagine in my entire life. I was not interested in any Jewish connections or anything Jewish."
Sam, the son of Patti and Lee Schear, graduated from Oakwood High School and Clemson University in South Carolina.
"After college, I didn't really know what I was supposed to do, so my parents said, 'Go to Birthright.' I really didn't want to. I came on Birthright and that experience was really powerful. You get changed. It changes a lot of things as far as feeling Jewish. It's hard to put into words."
From then on, Sam says he missed that feeling. For six months he worked for two production companies in Hollywood's film industry and then moved to Chicago to work for Morgan Stanley financial services firm, where he previously had an internship.
"And while I was in Chicago, Rabbi Mangel wanted me to meet the Chabad rabbi in downtown Chicago," Sam says. "So I met the rabbi there and he pulled me into Shabbat, and I just kind of fell in love with Shabbat, fell in love with what we were talking about."
After a year, Sam left Morgan Stanley. On the advice of the Chicago Chabad rabbi's son, Sam showed up at the Mayanot Institute of Jewish Studies in Jerusalem.
"People would call it a yeshiva for guys that didn't grow up religious, that want to learn more about God through Chabad Chasidus," Sam says. "I had no idea what a yeshiva was or what I was getting into. I was shell shocked for a couple of months. I've never been around religious people in my life, and all of a sudden, I'm living among the most ultra-Orthodox community in the world."
He toughed it out and gradually began sitting in on some classes. For the next year and a half, he went back and forth between Chicago and the yeshiva, sorting out his life. And then he made Aliyah.
"I decided that I needed a place to kind of balance out and figure out what's up and what's down. So I moved to Israel at 25, and I was in ulpan, in which I studied Hebrew, and then I was in the army."
Sam says he knew he would get more positives than negatives from his IDF service, because he didn't know Hebrew, and didn't know the country at all.
"I didn't know how Israelis worked or who they really were," he says. "Since I was 26 and going into the army of 18-year-olds and 19-year-olds, for people who can't speak Hebrew that well, they send you to a base where all the immigrants for about two months are supposed to be in basic training. You're living with everyone from all over the world. The officers were the age of my sisters. They were 19 and they ruled my life. You could say it was a humbling experience."
Those who make Aliyah at age 25 can only serve in the IDF for six months. After basic training, Sam was stationed at the IDF recruitment office in Jerusalem. There, he guarded Ammunition Hill and managed the office's entrance gate.
"I was the first face the Haredim (ultra-Orthodox) would see," Sam says. " There's a very large internal war between the ultra-religious going into the army or not going into the army. I was put in the center of it. I had to deal with the moms and I could barely speak Hebrew and Yiddish. They didn't speak any English.
"The majority don't go to the army. Most of them will be coming to the induction center pissing themselves, doing crazy stuff to make sure they get out of it."
After the army, Sam started his Facebook ad agency, which he still runs, and developed an app with a partner that allows people to exchange currencies with each other at no cost.
"I left the company because I had a disagreement about how it should be run," Sam says. He also owns a dog-walking company.
When Lazer completed his army service, he was hired as the marketing and PR specialist for a company called sFBI — Small Factory, Big Ideas —which he calls a "startup's startup," based in Herzliyah.
He commutes there by bus; Lazer lives in Kerem Hateimanim, the old Yemenite area of Tel Aviv between the Carmel Market and the beach.
"It's absolutely incredible there and is exploding with character," he says of his neighborhood. "It's a foodie heaven and is one of the most wonderfully weird places I've ever been in."
SFBI's team builds and launches products. "Instead of the entire team just continuing on with that product, the second the product becomes viable, you start hiring in a CEO, you hire the staff that are needed, and then it spins off," Lazer says.
Right now, his attention is focused on boscoapp.com, an artificial intelligence parenting app that predicts and prevents threats to children via their smartphones; it's intended for parents with children ages 8 to 15.
"We use AI to identify the warning signs, whether it's pedophilia grooming or cyberbullying or the kid just had a bad day. We can use AI to monitor the data ourselves and then notify parents, hey, something is up. We give parents the information they need to be parents."
The service, which is still offered for free during its beta testing, has 50,000 subscribers in Israel, the United States, the U.K., and Indonesia.
"I'm given the chance to wake up every morning here and keep children safe," Lazer says. "I don't know if there's anything better out there."
Since 2002, the nonprofit organization Nefesh B'Nefesh has been helping North American Jews make Aliyah, in cooperation with Israel's Ministry of Aliyah and Integration, the Jewish Agency for Israel, Keren Kayemeth LeIsrael, and JNF-USA. Nefesh B'Nefesh also has a "guided Aliyah" program that assists those seeking to make Aliyah from within Israel.
"I went to their office here and it was the easiest process in the world," Lazer says. "I was a citizen within 45 minutes. Funnily enough, they asked me if I wanted to change my name. I said, 'What does it take?' They said, 'You just have to write the name you want and sign on this piece of paper.' All I did was shorten it from Eliezer to Lazer officially. Mangel is spelled Mem-Nun-Gimmel-Lamed, which in Israel means barbecue. Not a bad name. I did put an extra Aleph in there, so that it wouldn't necessarily be the same thing."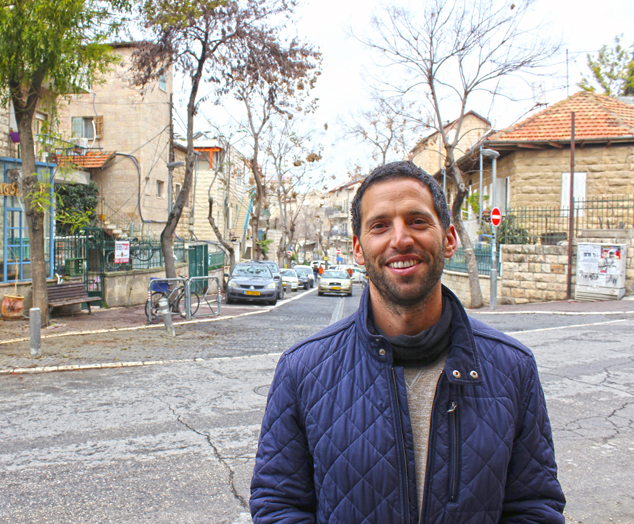 "They helped out a lot," Sam says of Nefesh B'Nefesh. "There are stipends, a financial boost to get from Chicago to here. It really helps. They're the agent between me and the Israeli government. They interpret what the Israeli government needs from me, and then I do what Nefesh B'Nefesh tells me to do. You need someone who can speak English. It's almost like the Wikipedia for making Aliyah."
Sam, Sara, and Lazer stress the importance of considering Aliyah with a clearheaded, realistic approach.
"If you come here with this dream of making Aliyah on what you see in the books and what you see in the marketing, you're going to be gone very quickly," Sam says. "Because it's not like that. It's real life."
"In order to eventually make Aliyah, you have to be open to change in a very big way," Sara says. "I've changed a lot. I'm more assertive. I've really molded to fit what I need to be to get things done in Israel."
To Lazer, the biggest challenge is integrating into the culture. On the weekends, his friend group plays board games and, except for the winter, plays beach volleyball a few hours each week followed by drinks.
"Israeli friendships and bonds are a lot tighter than Americans' are, in my opinion. Israel's small. Everyone knows each other. You don't know the jokes, you don't know the culture and it's just so hard to break in. And then the language just compounds on top of that."
There's a strong English-speaking community in each city, Lazer says, but it can serve as a crutch so that an Oleh doesn't have to make as much of an effort to jump in and immerse.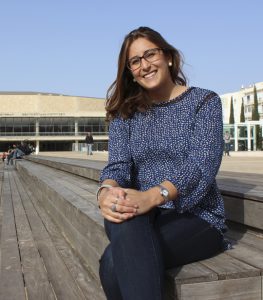 Sara sees that too. "Having my husband and his family always speaking Hebrew to me made it easier," she says, "but I still have friends who to this day don't know Hebrew that have been here as long as me. I believe that it's really important that Jews in Israel and the Diaspora learn to understand each other better — we are one people."
She adds that for her first few years, Israelis' chutzpah (audacity) on a daily basis wore her down.
"It was tiring: speaking a language that's not your own and also trying to get by with everything you're doing, and when people are used to pushing around people that are not necessarily from here," Sara says. "You build up your chutzpah."
Sam says one of his greatest challenges was keeping his own identity, "as opposed to putting myself in a box, like whether religious or not religious."
"There are so many different identities around here. When you move, everyone wants to influence you," Sam says. "Everyone wants to sell you on their lifestyle in order to confirm their lifestyle. That took a long time for that not to bother me."
As far as the startup scene goes, the three agree that the opportunities are limitless.
"Whatever you want to do, just go out and ask people to help you do it," Sam says. "People here are so willing to help one another, especially with the business scene."
"It's very common for people to work on their own ideas, a startup or to be a freelancer," Sara says. "You see tons of people working in all the cafés around Tel Aviv. They have an interesting relationship to work. The army is the only time you really have to follow the rules and after that, you're free to start your own thing. They have a less strict relationship with their career path, and that, I think, has been beneficial to me. There's a culture of being able to relax. On Shabbat, people actually relax. I appreciate that."
"Yeah, I'm going surfing this afternoon," Sam says on this Monday. "I surf, we make videos with my friends, I have a lot of friends who are in bands, so we make a lot of shows around the neighborhood, and a lot of hiking.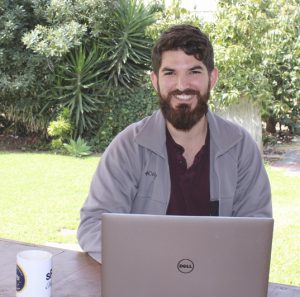 Every Friday we go on hikes. And then on the weekends it's mostly just Shabbat. That's why I love Shabbat so. This is the city of Shabbat and Friday night's a meal, and Saturday's a meal, and just chilling."
Sam credits his new life in Israel to Lazer's father, Dayton's Rabbi Nochum Mangel.
"He was the one who got me to Birthright and to Chabad House," Sam says. "My soul was attracted to it basically. That's about as honest as it gets."
"Growing up Chabad," Lazer says, "and growing up in the Dayton community with my Dad as clergy and my Dad as a community leader was the greatest gift I could have ever asked for. I didn't understand that until a couple of years ago. But it gave me life skills that are invaluable: the ability to understand politics and dynamics and to understand leadership. I grew up with this mentality of public service, of not living life simply for yourself. Coming to Israel gave me purpose."
Travel and accommodations for this story were underwritten by Nefesh B'Nefesh.
To read the complete April 2018 Dayton Jewish Observer, click here.