Yes, there are young Jewish adults here in Dayton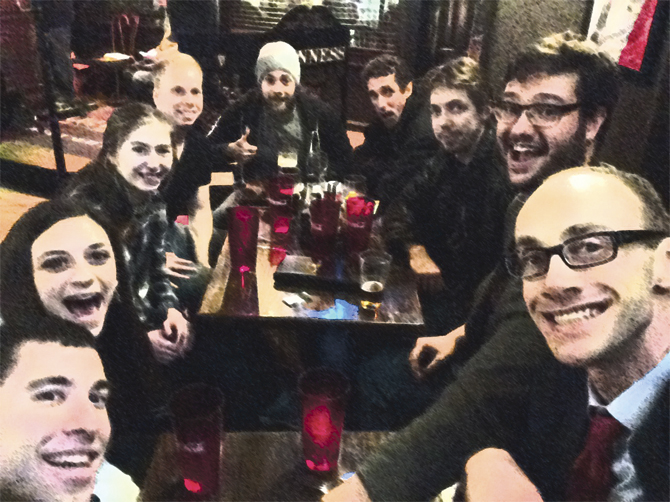 By Marshall Weiss, The Dayton Jewish Observer
When Hannah Schwartz moved from Knoxville, Tenn. to work for the Montgomery County Office of Emergency Management, she hoped to find a social group for young Jewish adults.
"There wasn't anything," Hannah, 26, says. "And so, I approached the Federation and said, 'Hey, let's do this.' And they gave the best possible answer: 'Sure. How can we help?'"
A year later, the Young Adult Division of the Jewish Federation brings about 15 to 20 young Jewish adults together each month to build connections, make friends, and have fun.
"For me, I think it's about having a sense of community wherever you move," says attorney Ben Mazer, 30, who came here from Blue Ash last year to work in the Montgomery County Prosecutor's Office. "I really enjoyed the Friday night when we had an informal Shabbat dinner at The Greene, and Shumsky's sponsored it. The set-up was very comfortable: we made it into a circle and I met a number of new people. It was inclusive and welcoming."
Ben heard about YAD from his friend, Joe Saks, also an attorney with the county prosecutor's office. Originally from Akron, Joe, 34, says it's the sense of Jewish community that brings him out to YAD events.
"I definitely haven't had that every place that I've lived," Joe says. "So it's nice to have that here."
Another Ben — Ben Wainblat — arrived here from Cleveland two years ago to attend the Boonshoft School of Medicine at Wright State. He's also active with J-Shoft, the Jewish medical student organization at Wright State.
"Besides Jews, the only group of people I know in Dayton is medical students," Ben Wainblat, 25, says. "So it's good to branch out. It's great to meet people who are not medical oriented."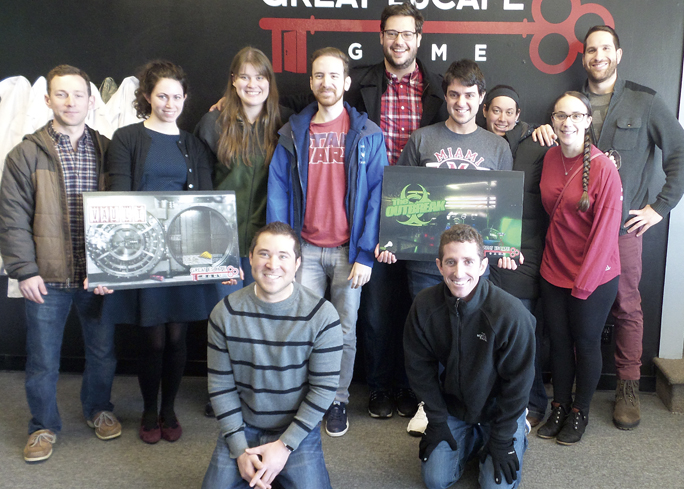 Even so, he encourages J-Shoft medical students to come out to YAD events.
"And sometimes I get people. They were at the Friday night Shabbat."
"Taking a bunch of medical students into a zombie outbreak at The Great Escape is hilarious," Hannah adds. "I totally recommend it."
Behind the scenes, Cheryl Carne, the Jewish Federation's director of external relations, helps Hannah identify and connect young Jewish adults to YAD.
When Cheryl learns about newcomers to the area's Jewish community, she invites them to have lunch with her.
"So many of the new people happen to be young adults and young families," Cheryl says. "My goal is to try and reach out to the ones who don't attend the events."
She's taken on the role of the cool aunt to the YAD squad.
"I bring them together and they're starting to make friends and get together on their own," Cheryl says. "I know they've gone to dinner, they also have some Shabbat dinners on their own. That makes me really happy."
One of the most well-attended events, Cheryl recalls, was a session about entrepreneurship and Jewish values with Zach Weprin, a founder and co-owner of Fusian.
"We're going to opening night of the JCC Film Fest and we're going to see the dress rehearsal of the opera Carmen, because two of our young Jewish adults — a ballerina and an opera singer — are in the production," Cheryl adds.
The two didn't know each other, so Cheryl made sure they met.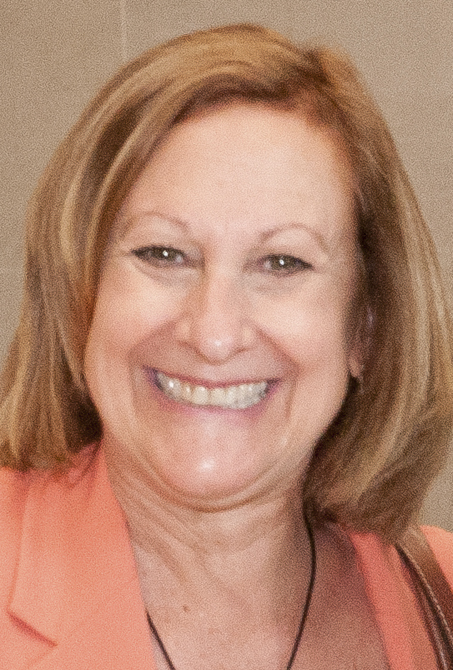 "It's fun to make connections and relationships, and that's what I love about it," Cheryl says. "There's a fairly new attorney who moved here, and I know attorneys in the YAD group, so I took them all to lunch to meet."
Young adult groups in the Jewish community — whether with the Federation, JCC or congregations — wax and wane regularly over the decades.
Hannah says she decided to take the lead now "because it's important to make our own place for people who want to stay engaged."
Some participants are single, others are married, some have children. Most are in their late 20s to early 30s.
"We haven't done as much of a good job as I would like interacting with some people who have kids," Hannah says. Future events she hopes will draw young families include a summer session to learn how to cook for a Shabbat dinner with Chabad's Rochel Simon, a hike in Yellow Springs, and a mitzvah project.
"I find this age group to be inspiring, because they're full of energy and excitement," Cheryl says. "And the other thing is, most of them don't have any family here. And that's why I try to connect them."
Along with connecting them to each other, Cheryl has begun connecting them to the Jewish community.
"I've got a few of them involved on committees beyond YAD," she says. "I would love for some of them to have mentors and meet established members of the community in their fields."
Hannah and Joe are on the Federation Innovation Grants Committee, and Ben Mazer is on the Federation's Visioning Committee.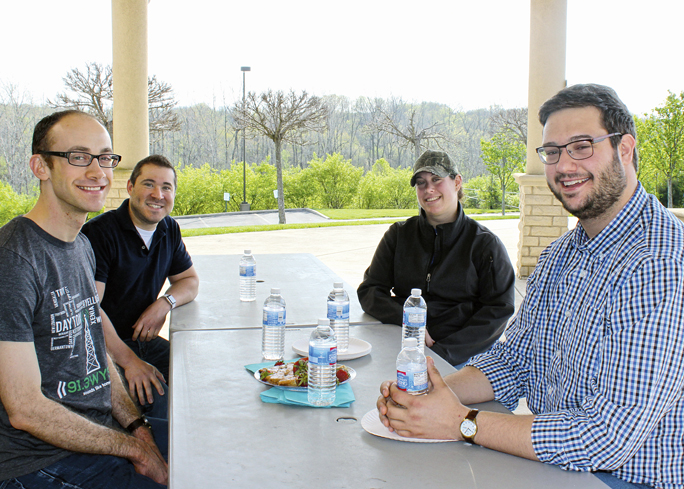 "To sound incredibly cheesy, we're going to take it over at some point," Hannah says of leadership down the road in the organized Jewish community. "It's incredibly important for us to stay in the pipeline so that we can start learning and start networking with each other, and deciding how we want to shape our generation of this."
"We just had two guys move here from California and they're only here for nine months and so one of the guys reached out to me," Cheryl says. "He asked, 'Where should I live?' I connected him to three people on the YAD committee, they helped him find an apartment, and they became fast friends. I think the guy from California was so impressed with that friendliness and openness."
To Cheryl, it doesn't matter if they're only in the area for a short time, as long as they can build friendships here.
"And ultimately, it would be great if we can make some matches and people will stay here!" she says, laughing.
YAD will host an evening at the dress rehearsal for Dayton Opera's production of Carmen, at 7 p.m. on Wednesday, May 17 at the Schuster Center, 1 West 2nd St., Dayton. Two YAD participants perform in Carmen: Dayton Ballet dancer Jocelyn Green, and Dayton Opera Artist-In-Residence Chelsea Friedlander. There is no charge, but reservations are required with Cheryl Carne, 610-1778. YAD participants will also meet for dinner before the dress rehearsal, between 5:45 and 6 p.m. at Flying Pizza, 223 N. Main St. 
To read the complete May 2017 Dayton Jewish Observer, click here.