Ricotta & Strawberry Bourekas for Shavuot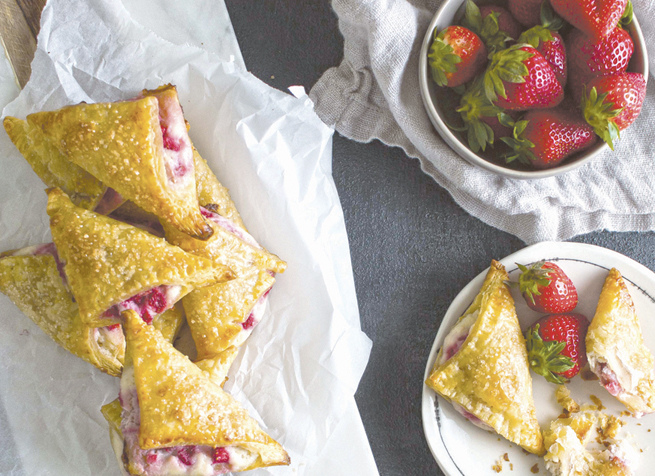 By Danielle Oron, JTA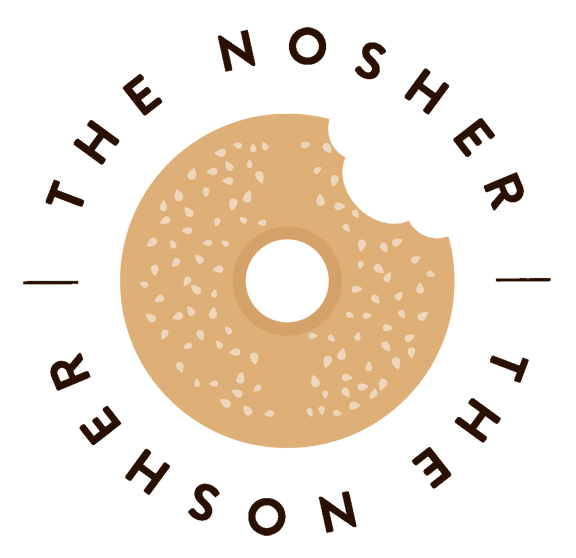 I'm a cheese and dairy fanatic. So for obvious reasons, my favorite holiday is Shavuot. This is when spring has sprung and my family makes a whole spread of cheese and dairy-filled foods and desserts. There are always a ton of different cheeses, spreads, breads, fluffy cheesecake, kugel, blintzes and my absolute favorite, bourekas — puff pastry or a simple butter pie dough filled with cheese and either potato, mushrooms or spinach. When you manage to get one hot out of the oven, they are heavenly.
So why not have sweet bourekas on the table too? I'll take care of that this year. They'll be filled with a sweetened ricotta cheese and macerated strawberries, since they are in season. No fresh strawberries around? Try using jam in whatever flavor you like.
You can also make these ahead and freeze them, and then bake them one by one for a midnight snack if you really want. The beauty of bourekas is that you can bake them even if they are frozen. I love a good make-ahead recipe when I know I'm making a slew of things during the holidays.
Sweet Ricotta & Strawberry Bourekas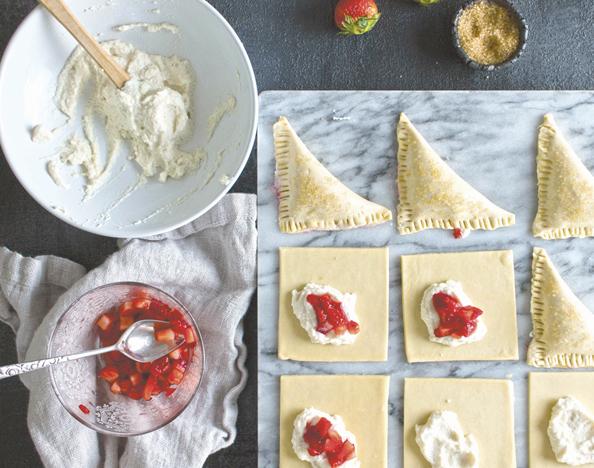 Yields 12
1 sheet of puff pastry, cut into 31/2 to 4-inch squares
3/4 cup finely diced strawberries
1/2 tsp. sugar
3/4 cup ricotta
1 1/2 Tbsp. sugar
1/2 tsp. vanilla bean paste or vanilla extract
1 egg
coarse sugar
Mix the diced strawberries and sugar (1/2 teaspoon) in a small bowl and allow to sit for five minutes. In a separate bowl, combine the ricotta with the sugar (11/2 tablespoons) and the vanilla bean paste.
Prepare an egg wash by whisking the egg with a splash of water. Line a sheet pan with tin foil and coat with a bit of cooking spray.
Fill each square with about two teaspoons of ricotta filling and about a teaspoon of strawberries, leaving at least a 1/4-inch border. Brush some egg wash along the edges of the puff pastry and seal them into triangles. Use a fork to press down along the edges. Brush the tops with egg wash and sprinkle with lots of coarse sugar.
Transfer the bourekas to the prepared sheet pan and place in the freezer for at least 30 minutes. At this point, you can transfer them to storage bags and keep frozen until you're ready to bake them.
Preheat the oven to 400 degrees and bake until golden brown and flaky, about 18 to 20 minutes.
Danielle Oron is a chef, photographer and blogger (I Will Not Eat Oysters), the owner of a milk and cookies bakery in Toronto, and now a cookbook author. She is Israeli, Moroccan, Canadian and American and was classically trained at the French Culinary Institute.
To read the complete May 2017 Dayton Jewish Observer, click here.