Letting go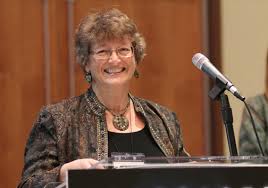 Jewish Family Education
Back To Basics Series with Candace R. Kwiatek, The Dayton Jewish Observer
Fiercely independent, Dad was not one to let go easily. In his 80s, he was making three meals each day, caring for his own yard, and maintaining his own house.
When he broke his leg at 91, he learned to use a walker and a stairlift chair and continued to live on his own.
At 92, he replaced his aging car, insisting that once his broken leg healed he'd be back to driving on his own.
Instead, during the year that followed, he learned to accept increasing assistance at home from family members and professionals.
While Dad never fully conceded to the limitations of old age, early in March he did "go gentle into that good night."
The Bible is filled with stories of letting go. At God's command, Abraham let go of everything familiar: his country, his birthplace, and his father's house — essentially everything he knew and by which he was known.
The choice to follow her mother-in-law Naomi meant that Ruth, too, had to let go of life as she'd known it. By letting go, they changed the world.
Joseph let go of his animosity toward his brothers in order to reunite his family in Egypt.
Moses let go of a peaceful and familiar life to lead the Israelites out of Egypt.
Esther let go of fear for herself in order to save others.
Letting go was difficult but necessary to accomplish what was right and just.
Cautionary tales about not letting go also appear in the Bible. Lot's wife couldn't let go of life as she knew it, ending up preserved as salt.
The Israelites under the Judges didn't let go of idol worship and pagan practices, bringing about destruction and ruin.
Haman refused to let go of his sense of self-importance and his hatred of a people "whose customs are different from those of all other people," ultimately self-destructing and becoming the archetype of the antisemitic villain.
Particularly relevant to the Passover season, Pharaoh's unwillingness to let go of his omnipotence and his enslaved labor force ultimately led to the loss of both.
As for the Israelite slaves, commentators note that 80 percent refused to let go of the familiarity and security of Egypt, where they perished.
Those adults who were liberated during the Exodus, however, couldn't let go of their romanticized view of Egyptian life, dooming themselves to die in the wilderness.
Like our biblical ancestors, each of us will find countless opportunities for letting go.
Some Jewish rituals have created a sacred art out of letting go. Parents let go of moral responsibility for their children in the traditional B'nai Mitzvah blessing.
The mikvah (ritual bath) marks the letting go of a former religious identity or of the monthly separation between husband and wife during childbearing years.
Mourning practices of eulogy, shiva, and shloshim dignify the gradual letting go of a loved one.
However, most decisions about letting go aren't guided by ritual.
Jewish wisdom provides insight. "The Talmud sums up the Jewish perspective on child-rearing in a single sentence," psychologist and author Wendy Mogel writes. "'A father is obligated to teach his son how to swim.' Our job is to raise our children to leave us. The children's job is to find their own path in life."
Let go of the current helicopter and teacup approaches to parenting, the sages would argue; they create fearful, fragile, and under-functioning children and adults.
Wise parenting is a constant, gradual process of letting go while teaching children the skills to overcome disappointments, make independent decisions, solve problems, manage risks, and accept consequences — in other words, how to swim. "This is the only way children will mature into resilient, self-reliant adults," Mogel concludes.
Knowing when to let go in the face of life's varied challenges is complicated. A friend disappoints. A store refuses a return. A speaker arrives unprepared.
A job doesn't live up to its promises. A diet fails. A teen needs drug rehab. A partner sues for divorce. A child dies.
Often adding to the complexity are the emotional benefits of not letting go (my anger is justified), fixation on how things should be (I was next in line for promotion), or the conviction that some wounds are irreparable (I'll never trust again).
Despite the complexities, Jewish values can always be counted on to inspire a solution.
There is no universal roadmap for letting go, but Jewish ritual, wisdom, and values can provide direction.
The Torah offers three additional principles about letting go. From the story of Cain we learn to balance emotion with reality in order to gain perspective.
From Leah's son, whom she named Yehudah (I am grateful) despite great disappointment in her marriage, we learn to focus on what we have rather than what we lack.
And from Sinai we learn that letting go must reflect ethics and morality, contributing to the greatest long-term good both for oneself and for others. Letting go is part of being human; letting go well is part of being a mensch, a humane person.
Literature to share
Fascinating: The Life of Leonard Nimoy by Richard Michelson. Star Trek Enterprise's beloved Spock comes to life for youngsters in this highly-acclaimed illustrated biography. The son of Yiddish-speaking immigrants, Nimoy lived the American dream of reaching the stars through dedication and hard work while remaining committed to Jewish values. An excellent selection for upper elementary and middle school.
The Two Family House by Lynda Loigman. Inspired by stories of her mother's childhood in postwar Brooklyn, Loigman has written a powerful multi-generational saga of memorable characters, difficult choices, consequential secrets, and the lies keeping them hidden. Highly recommended.
To read the complete April 2017 Dayton Jewish Observer, click here.