Present at the birth of the Jewish state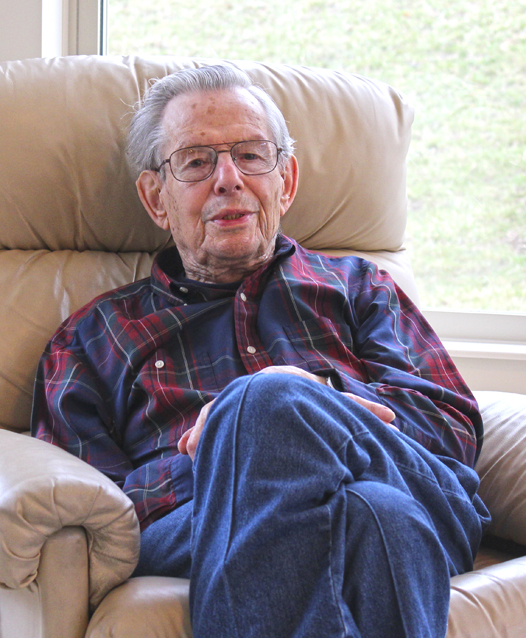 Daytonian Fred Scheuer provided intelligence to the Jewish Agency before & during War of Independence 
By Marshall Weiss, The Dayton Jewish Observer
"I was outside the museum, on Rothschild Boulevard," Fred Scheuer recalls of May 14, 1948, the day when Jewish Agency Chairman David Ben-Gurion announced Israel's Declaration of Independence to the Jewish state's provisional government inside the Tel Aviv Museum of Art.
"Only dignitaries were inside," Scheuer continues. "Actually it was a very small hall in the museum. We were outside listening through the loudspeaker, which was set up at the last minute. It was a very small crowd because we did not want to advertise it. It wasn't announced because they were afraid the Arabs would start interrupting it."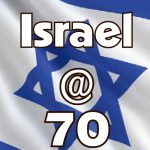 Scheuer, who turns 93 in May, conducted intelligence work for the Jewish Agency in the lead-up to and during Israel's War of Independence.
This is the first time he shares recollections of his life in pre-state Palestine and Israel with anyone outside of his family.
"I was already in intelligence with the British Army during the war (World War II)," he says. "I got in there because of my knowledge of languages."
Seated in his home in Centerville, Scheuer holds his memoirs, which he says are "strictly for family."
The NCR retiree was born in 1925 in Saarbrücken in the state of Saarland when it was French territory, as reparations against Germany in World War I through the Treaty of Versailles. A decade later, when Saar residents supported a referendum for the territory to be returned to Germany — and with Hitler in power — the family moved to Luxembourg.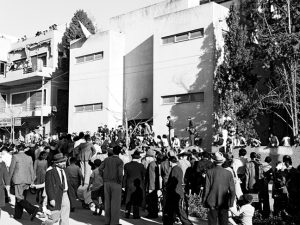 "It was obvious that there was no future there for Jews," Scheuer says of Saarland. "In fact, quite early, my father was told by associates that he was not to associate with them any longer. Because of my father's credentials with the International Court, it was very easy for us to move to Luxembourg."
With war on the horizon in 1939, the family left Luxembourg for Palestine. Scheuer was 14.
"We had a choice to go to Canada or to Palestine," he says. "My father was more of a Zionist than a Jew."
An uncle who had moved to Palestine earlier arranged for them to live in Tel Aviv.
"Of course we didn't know the language. I didn't know the Hebrew."
With the German Army led by Gen. Erwin Rommel advancing across North Africa, Scheuer was recruited by British Military Intelligence for communications training at age 16 in 1941; in Europe, he had attended school where German and French were taught. He also became fluent in English, Hebrew, and Arabic.
"We were sitting in the Judaean Mountains, we were supposed to observe troop movements of the Germans and pass on that information to the British, in of all places, Iraq," Scheuer says. "We were a small group of 40, 30 people. A British sergeant major was, so to speak, our father."
But after the British stopped the German and Italian armies at El Alamein, Egypt in 1942 and the threat of a German invasion of Palestine ended, Scheuer was able to return home to Tel Aviv, where he briefly joined the Haganah (precursor to the Israel Defense Forces) in 1943 and graduated from technical high school in 1945. A month after his graduation, he began working for Mittwoch & Sons, the agency of NCR in Palestine. Ultimately, this would lead him to Dayton.
After World War II — in the aftermath of the Holocaust and with Europe's surviving Jews languishing in displaced person camps there — Scheuer joined a Jewish Agency task force in 1946 to sneak Jewish refugee ships past the British blockade of Palestine.
In early 1948, a few months after the United Nations voted to partition Palestine into a Jewish state and an Arab state, Scheuer became a "desert rat" in the Sinai at a relay station near the Egyptian border; he kept in contact with Jewish agents in Egypt.
Scheuer recalls working with Yitzhak Rabin as part of his intelligence operations.
"The first time, I remember was shortly before the Declaration of Independence," he says. "He came in to our group and said one thing that at that time I did not understand. He said, 'Chaverim (friends), young people, go out, enjoy yourself. Celebrate. Because tough times will come.'"
In Scheuer's opinion, Rabin was the greatest leader in the history of the Jewish state.
"Yitzhak Rabin doesn't get the credit due to him. He was a man of peace even though he was a fighter. He was always fighting for peace."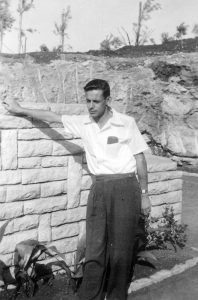 Scheuer was primarily involved in intelligence work during the War of Independence; he says Israel had three secret weapons that helped it survive.
"One is our back was against the Mediterranean Sea. We were surrounded by Arabs, by enemies," he says. "The second major secret was the Arabs didn't know what we didn't have. That was the biggest secret. Because we had practically nothing, I mean as far as weapons were concerned for our defense."
The third secret, Scheuer says, was Israel's military intelligence.
"And that, we learned from the British, how to feed false information to the enemy," he says.
One night, Scheuer even carried supplies to Jerusalem on the makeshift "Burma Road" built under Gen. Mickey Marcus during the 1948 Arab siege of Jerusalem.
"I was young. I really didn't recognize the danger, what could be. The Egyptian Army was only 40 to 50 miles from Tel Aviv. If they had penetrated, Israel wouldn't be Israel today. It would have been a second Holocaust."
Scheuer came to the United States in 1952 to study engineering at The University of California, Berkeley. But on his arrival in New York, he first visited NCR's International Office at Rockefeller Center for a tour.
NCR staffers then arranged for him to visit Dayton. Over a meal at the Moraine Country Club, NCR's international vice president offered Scheuer a job with NCR's international education division. Scheuer accepted, becoming only the second Jew to work as an executive for NCR at that time, and established its Latin American technical school in Puerto Rico in 1953-54. In 1955, he transferred to Dayton with his young bride, Ruth, a friend of his family back in Israel. Scheuer worked for NCR for 43 years. He and Ruth enjoyed 61 years together until her passing in 2016.
When asked if he thinks Israel will ever have peace with its neighbors, Scheuer says, "I doubt it. That will be difficult because Israel today, ideologically, is more divided than ever."
Editor's note: After Dayton's Fred Scheuer shared stories with me of his intelligence work for the Jewish Agency before and during Israel's War of Independence, I thought he might enjoy hearing about how Dayton helped in '48.
"Did you know that Golda was in Dayton during the War of Independence?" I asked him.
"Collecting money?" he replied. She was. Golda Meir, who would become Israel's prime minister two decades later, raced across America to raise $100 million in cash for Israel by Aug. 1, 1948.
On June 8 at Dayton's Biltmore Hotel, she received a $300,000 check from United Jewish Campaign Chair A.B. Saeks for the weeks-old Jewish state, fighting for its life against five Arab armies.
Around that time, Scheuer was transmitting and receiving messages in Israel for the Jewish Agency. "We got a message from the United States, a transmission that Golda Meir collected, I think it was $4 million," Scheuer said of one of her stops. "We had to transmit that to Jerusalem. Ben-Gurion of the Sachnut (Jewish Agency) wrote back, 'Mistake. Have this confirmed.' And the message was correct. The Sachnut in Jerusalem didn't believe it."
To read the complete April 2018 Dayton Jewish Observer, click here.