Favorite Jewish foods, updated for Passover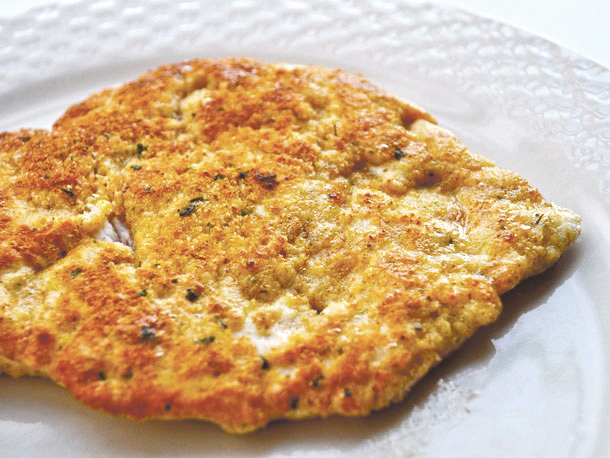 By Shannon Sarna, thenosher.com
Two of my family's favorite dishes are schnitzel and rainbow cookies, and I have a feeling your family may feel the same.
Here's some great news about both: They very easily translate into Passover-friendly versions with minor adjustments.
While you could serve them for your Seder meals, both are great to enjoy during chol hamoed, the intermediate days of the holiday, when you're sick of eating leftover brisket and coconut macaroons.
Passover-Friendly Chicken Schnitzel
Schnitzel is satisfying, easy to make, and will be the perfect dinner served with some roasted potatoes and a simple green salad.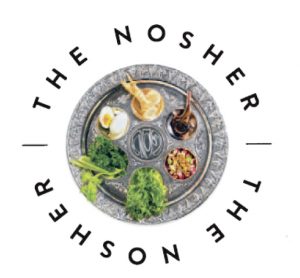 2 lbs. chicken cutlets
Salt and pepper
2 eggs, beaten
2 tsp. kosher-for-Passover mustard or hot sauce
1 tsp. water
1 1/2 cups matzah meal
1/2 cup almond meal
2 Tbsp. dried parsley
1/2 Tbsp. smoked paprika
1 tsp. sea salt
1/2 tsp. black pepper
Vegetable or canola oil for frying
1. Combine eggs, mustard or hot sauce and water in a large bowl. Combine matzah meal, almond meal, parsley, paprika, salt and pepper in another large bowl.
2. Dredge each chicken cutlet into egg mixture, then into matzah meal mixture, pressing down to ensure the entire piece is covered. Lay flat on a plate or baking sheet.
3. Pour oil into large sauté pan to about 11/2 inches high over medium-high heat.
4. Fry chicken cutlets in batches, two to three at a time, until golden on each side, depending on thickness of chicken, around three minutes for each side. Take care not to overcrowd the pan or chicken will not cook properly.
5. Remove from pan and allow to cool on a wire rack.
6. While chicken is still hot from pan, sprinkle each cutlet with additional pinch of salt.
Passover-Friendly Rainbow Cookies
Rainbow cookies are such a beloved American staple. The task may seem intimidating, but once you make your own — especially this Passover-friendly version — you will never go back to the store-bought version.
For the cake:
4 eggs
1 cup white sugar
4 oz. almond paste, broken into little pieces or processed in food processor for 30 seconds
2 sticks (1 cup) unsalted butter or margarine
1/2 cup matzah cake meal
1/2 cup blanched almond flour (not almond meal)
1/2 tsp. salt
1/2 tsp. kosher-for-Passover vanilla extract
Red and green food coloring (about 8 drops each)
For the chocolate glaze:
1 cup dark or semisweet chocolate chips
1 Tbsp. vegetable shortening or vegetable oil
Pinch salt
Special equipment: 3 square baking pans, offset spatula, food scale
1. Preheat oven to 350 degrees. Grease your pans. Add parchment paper to bottom of each pan. Grease again and add light dusting of matzah cake meal. Tap pan to remove any excess flour.
2. Using a hand mixer (or whisk attachment to stand mixer), mix eggs and sugar until thick and yellow. Add crumbled almond paste and combine.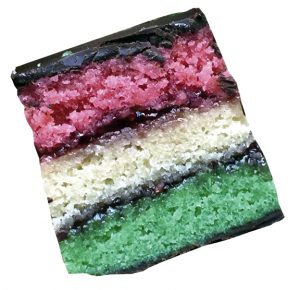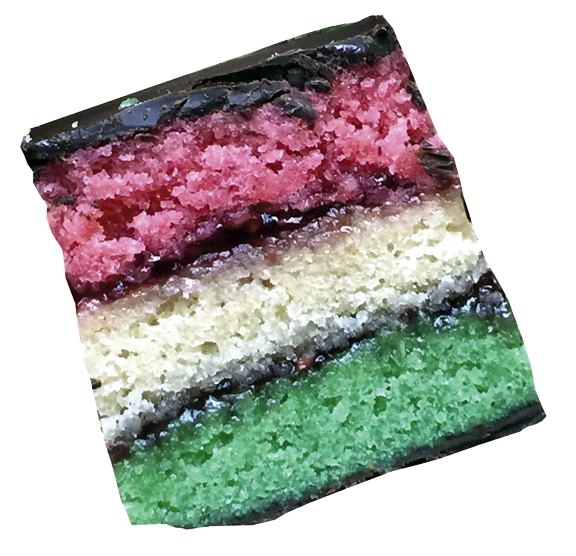 3. Add melted butter (or margarine), matzah cake meal, almond flour, salt and vanilla.
4. Divide batter into three even amounts. (Try using a food scale if eyeballing is too difficult). Leave one plain. Add green food coloring to one batch of batter. Add red food coloring to the other batch of batter.
5. Pour batter into prepared pans. Bake for eight to nine minutes or until just set and no longer wet in the middle.
6. Allow to cool completely.
7. Place chocolate, shortening and pinch of salt in a glass bowl. Microwave for 30-second intervals until melted. Stir vigorously to ensure there are no clumps.
8. Place a piece of parchment paper on top of a platter or baking sheet. Add red cake layer to parchment paper. Spread thin layer of raspberry jam. Top with white layer. Add another thin layer of raspberry jam. Top with green cake.
9. Carefully spread half of the melted chocolate on top. Place in refrigerator for 15 to 20 minutes or until completely hard.
10. Turn over and spread remaining chocolate on other side. Place back in refrigerator for 30 minutes or overnight.
11. Trim edges, slice.
To read the complete March 2018 Dayton Jewish Observer, click here.