Kvelling Corner
With Rachel Haug Gilbert, The Dayton Jewish Observer
J.B. Hoyer passed the state nursing boards exam. He is employed in the ICU department of the Ohio Hospital for Psychiatry in Columbus.
Beth Abraham Synagogue Sisterhood has announced its 2018 Women of Valor honorees: Elaine Arnovitz, Stacy Emoff, Charlotte Golden, Carol Graff, Pat Saphire, Cherie Rosenstein, and Melissa Sweeny. The women will be honored at Beth Abraham's Women of Valor Luncheon on May 9.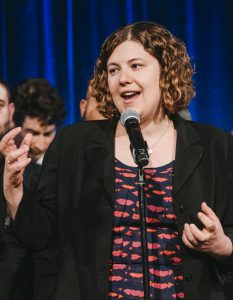 Lela Klein, executive director of the Greater Dayton Union Co-Op Initiative — a non-profit organization that is developing Gem City Market to serve Northwest Dayton beginning in 2019 — has been named an Echoing Green Fellow. Out of 3,000 applicants, Lela is one of 30 fellows to receive seed funding, training, and support to accelerate their impact as social change leaders around the globe. A native of Dayton, Lela is one of the founders of GDUCI.
Rachel Crafton, daughter of Connie and Billy Crafton, has been accepted as a mid-year sophomore at The Miami Valley School. She'll begin with the high school's Civil Rights Immersion program in January.
Send your Kvelling items to Rachel Haug Gilbert at kvellingcorner@gmail.com. 
To read the complete January 2018 Dayton Jewish Observer, click here.