God wrestling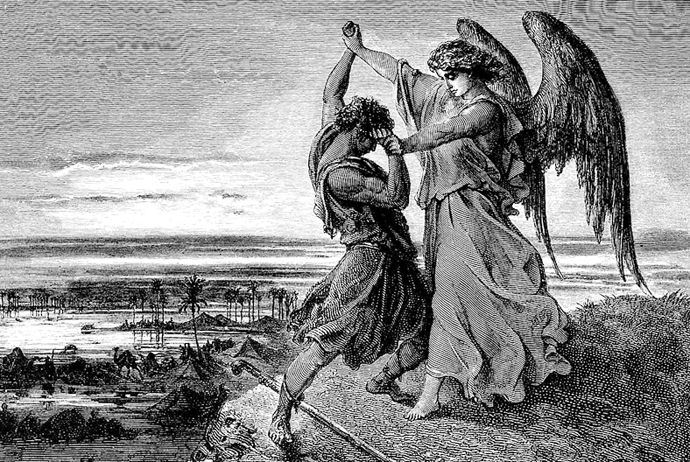 Turning To Spirituality Series
Jewish Family Education with Candace R. Kwiatek, The Dayton Jewish Observer
A Hebrew school student's mother, an avowed atheist, once approached me to ask if I would teach her son about God.
How amazing, I thought, that a non-believing parent still understood the importance of her child exploring ideas about God. On the other hand, how sad that she didn't feel she had the resources to tackle it herself.
We talk with our children about nearly everything from sex to death to politics.
Why is it so hard to talk about God? Maybe it's because we ourselves don't know what we think about God or what "God" even means.
We may wonder if our personal views about God are authentically Jewish or just too radical to share.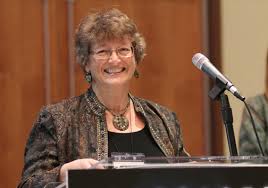 Perhaps we're stuck with unsatisfying God-images from our youth. Maybe we don't believe in God at all. How will we be able to answer the inevitable questions? How can we talk sincerely about God when we're God-wrestling ourselves?
From the time of the Patriarchs until today, Jews have wrestled with the notion of God.
In fact, our very name, Israel, means "wrestle with God." But wrestling with God is a very personal experience, which even God acknowledges upon greeting Moses at the burning bush. "I am the God of your father, the God of Abraham, the God of Isaac and the God of Jacob," God says, rather than "the God of Abraham, Isaac, and Jacob," as if their experiences of God were one and the same.
Rabbi Paul Kipnes notes that according to Jewish tradition there are at least 70 names for God that embrace a whole spectrum of God concepts.
His first response to a congregant professing not to believe in God was, "What kind of God don't you believe in?"
There's the Creator God of Genesis and the personal God of Tevye in Fiddler on the Roof.
In Hebrew, God synonyms include Source of Life, Rock of Israel, Compassionate One, The Place, Maker of Peace, Without End, Existence.
Turning to philosophers, Rabbi Michal Loving describes Philo's God as pure Mind and Intelligence, the Soul of the Universe. Maimonides' God is the Unmoved Mover, the Cause behind nature and science, while Spinoza's God is nature.
The rabbis of the Talmud say the all-good, all-powerful God interacts with the world, while Milton Steinberg says God is not all-powerful and doesn't intervene.
"Nobody agrees," Loving explains. "The best part is, all of these conceptions are Jewish."
Rabbi Karyn Kedar concludes that, "Apparently, our ancestors understood that the vastness of God can be understood only if we use words that include as much of human experience as possible."
God concepts aren't simply the product of adults' intellectual gymnastics or mindless indoctrination either.
According to an extensive multi-disciplinary, multicultural project of more than 40 separate studies led by Oxford's Dr. Jerome Barrett, the human mind from infancy onward has a natural predisposition to religious beliefs of various sorts, including belief in gods and an afterlife.
These studies may help explain why so many parents are caught off guard by their young children's theological questions and sophisticated notions of God.
The importance of God-wrestling throughout our lives can't be underestimated, notes Rabbi David Wolpe. "What we believe about God greatly affects how we view ourselves, other people, and our world."
Here are six suggestions for fostering constructive God-wrestling at any age.
1. Jewish Spiritual Parenting authors Rabbi Paul Kipnes and Michelle November recommend that parents hold back on adult-sized doubts in order to give children room to explore, learn, and grow on their own terms. Their advice could apply equally to ourselves to benefit our own spiritual growth.
2. Use your smartphone to snap a single picture each day of something wondrous, miraculous, or awesome. Such images are transformative, opening us to a sense of possibility, and inspiring us to recognize the transcendent. "There are only two ways to live your life," Einstein is quoted as saying. "One is as though nothing is a miracle. The other is as though everything is."
3. Educate yourself. What kind of God don't you believe in? What other notions of God does Judaism embrace? Start by exploring the accompanying resources.
4. We are the People of the Book, so read or tell stories and talk about them. Bible. Midrashim. Folk tales. Stories inspire readers and listeners to contemplate big ideas about purpose and meaning.
5. Ask questions. Invite questions. The Nobel Prize-winning physicist I.I. Rabi once told an interviewer that his mother would ask him when he came from school, "Isaac, did you ask any good questions today?" From that, he learned that the key to life was asking good questions, not always knowing "the correct response."
6. Finally, the Talmud teaches that each person should teach his tongue to say, "I don't know." Don't be afraid to say, "I don't know," but then add, "Let's find out."
God-wrestling is a life-long journey with no clear landmarks. Author Wendy Russell concludes, "If we're not prepared to explore ideas of God…with our curious children, someone else will do it for us." And if we don't do it for ourselves, no one will do it for us.
Literature to share
The Hebrew Alphabet: Book of Rhymes for English Speaking Kids by Yael Rosenberg. In this first book in his A Taste of Hebrew for Kids series, Rosenberg introduces each of the 22 letters of the Hebrew alphabet through a kid-friendly image, the Hebrew word, the English transliteration, and a simple rhyme. This series, which includes counting, colors, and more, is perfect as an early childhood introduction to the Hebrew language.
King Solomon's Table: A Culinary Exploration of Jewish Cooking from Around the World by Joan Nathan. Nathan's book is like a private tour around the world through personal stories, historical notes, and a wide array of mouth-watering culinary treats. Recipes use easily acquired ingredients and include clear directions and photos. A feast for the intellect as well as for the body.
To read the complete October 2017 Dayton Jewish Observer, click here.