Pomegranate & Honey Glazed Chicken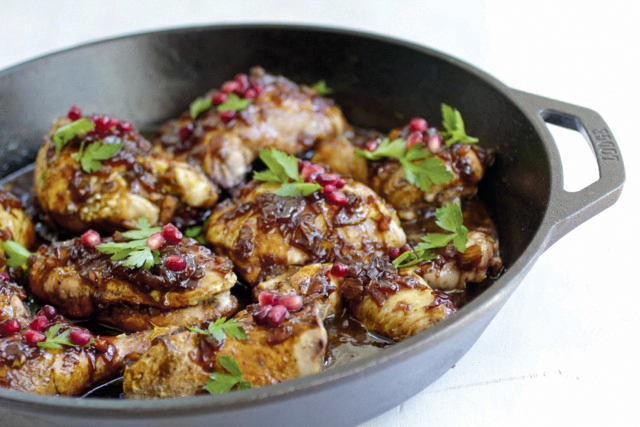 By Liz Rueven, The Nosher
Pomegranates, or rimonim in Hebrew, are among the most recognizable and highly symbolic fruits in Jewish culture. Originating in Persia, these reddish, thick-skinned fruits begin to appear in markets at the end of summer and are readily available for holiday cooking by Rosh Hashanah.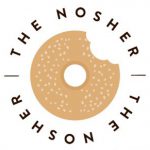 According to Gil Marks in The Encyclopedia of Jewish Food, the abundance of seeds is associated with the 613 commandments in the Torah. They serve as symbols of righteousness and fruitfulness, as expressed in the Rosh Hashanah saying, "May we be full of merits like the pomegranate (is full of seeds)."
This ancient fruit, prized for its juice and seeds (called arils), is mentioned in the Bible as one of the seven most bountiful agricultural products of ancient Israel. It is associated with fertility and sensuality, and is mentioned six times in the Song of Songs.
In biblical times, pomegranates were used to add tart flavors to ancient dishes before lemons and tomatoes were discovered. Since then, pomegranates have been used to add unique and complex dimensions to Sephardic and central Asian soups, stews, sauces, chutneys and desserts. They may be juiced, dried, reduced, ground or pressed into pomegranate oil.
Today, pomegranates are prized for their antioxidant and potent nutritional value, just as they were in ancient Egypt when the seeds were believed to heal intestinal disorders.
In The New Persian Kitchen, author Louisa Shafia offers numerous pomegranate dishes.
It is considered a positive omen, or segulah, to incorporate symbolic foods such as pomegranate in our Rosh Hashanah menus. Whip up this easy chicken dish and you'll have both bountiful and sweet symbols covered.
In this recipe, the symbolic fruit is used in three ways: juice, molasses and seeds. The flavors are bold, tangy and slightly sweet — a Middle Eastern-influenced sweet and sour.
Note: The simmer sauce may be prepared two to three days ahead and refrigerated until ready to prepare the chicken.
1 4-lb. chicken cut in eighths (breasts cut in half if large)
4 Tbsp. canola oil (separated: 2 Tbsp. for simmer sauce and 2 Tbsp. for browning the chicken)
1 large onion, chopped
3 cloves garlic, minced
1/2 cup pomegranate molasses
1/2 cup sweetened pomegranate juice
1/2 cup honey
2 cups vegetable or chicken broth
1 tsp. cumin
1/2 tsp. powdered ginger
1/8 tsp. allspice
1/2 tsp. turmeric
salt and pepper to taste
For the garnish:
2 Tbsp. parsley
2 Tbsp. pomegranate seeds
Heat two tablespoons of canola oil in a large pan (you'll need a lid for later).
Sauté chopped onion until soft and translucent. Add minced garlic and sauté for two to three minutes (do not brown).
Add pomegranate molasses, juice, honey, broth and spices.
Stir and bring to boil. Reduce to an active simmer, and cook uncovered, for about 20 minutes or until sauce is reduced by about half the volume and slightly thickened.
Taste sauce and adjust seasoning. Too tart? Add one to two tablespoons of honey. Want more kick? Crack more black pepper.
Remove sauce from heat and pour into bowl. Set aside. Wash pan.
Rinse chicken parts, pat dry, season with salt and pepper.
Heat remaining two tablespoons of oil in pan and place chicken parts skin side down. Brown on one side and flip to second side. Do not crowd chicken in the pan, as this causes chicken to steam rather than brown.
Lower heat, pour prepared simmer sauce over the chicken. Cover pan and simmer on low for 35 to 40 minutes.
Remove from pan and platter, garnishing with chopped parsley and pomegranate seeds.
Liz Rueven's blog, Kosher Like Me, features restaurant and product reviews, tips on events where like-minded eaters like her can actually eat.
To read the complete September 2017 Dayton Jewish Observer, click here.