Media watchdogs fight anti-Israel bias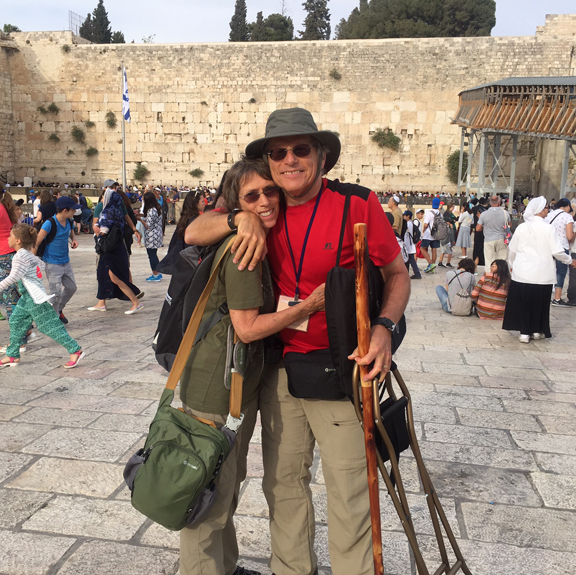 Opinion by Richard and Diann Bromberg
"Shabbat Shalom to my loving friends," 23-year old Israeli Border Police Officer Staff-Sgt. Maj. Hadas Malka messaged along with a smiling selfie minutes before she was stabbed to death by a Palestinian terrorist outside Damascus Gate on Friday evening, June 16.
In the hours that followed, The Jerusalem Post released details: The three terrorists, already known to the Shin Bet, staged a coordinated attack against two sites of border police. Two of the terrorists, armed with a knife and an automatic weapon, preyed upon Malka and four others. The terrorists were killed by officers before they could accomplish further carnage. Both the Islamic State and Hamas proudly claimed Malka's murder, describing the terrorists as "martyrs" and the Israeli response as "a war crime."
Immediately following the terror event, BBC News (World) released the headline, "Three Palestinians killed after deadly stabbing in Jerusalem." The report omitted pertinent facts. Media watchdog organizations that monitor for accurate and unbiased reporting regarding Israel reacted. Israeli Prime Minister Netanyahu ordered the Israeli Ministry of Foreign Affairs to reproach the BBC. Donald Trump Jr. tweeted: "You mean after they stabbed a female Israeli police officer to death…right? This is as close to being misleading as possible."
The BBC apologized and changed the headline to: "Israeli policewoman stabbed to death in Jerusalem," claiming "no intention to mislead our audiences."
This was not the first time BBC had been confronted about biased reporting. Last year, a warning was given by Israel's Government Press Office when a terror attack claiming the lives of two Israelis was reported with the headline: "Palestinians shot dead after Jerusalem attack kills two." Following protests it was changed to: "Jerusalem: Palestinian kills two Israelis in Old City," according to The Jerusalem Post.
A quick scan of the websites of Israel-focused media watchdogs shows that inaccurate and even fabricated reports about Israel are frequent and plentiful. With the help of concerned laypersons the world over, these watchdog NGOs monitor the media 24/7 for bias, holding reporters accountable, and seeking corrections. Their websites offer a telling history of examples of biased reports confronted and corrected.
Such watchdogs include: BBC Watch, CAMERA (Committee for Accuracy in Middle East Reporting in America), FLAME (Facts and Logic About the Middle East), HonestReporting, MEMRI (The Middle East Media Research Institute), Palestinian Media Watch, and UK Media Watch.
On an HonestReporting mission to Jerusalem in May, HonestReporting CEO Joe Hyams told our group that the nations of the world persistently rank Israel as fourth or fifth on negative opinion, just below France and just above North Korea.
"The world is not responding to the real events in Israel," Hyams said. "It is responding to the description of these events by the news organizations. Journalists are storytellers who are often looking for a face or a headline to tell a story already written with conclusions already determined."
"If it bleeds it leads is the old media adage," Emmanuel Nahshon, spokesman for the Israeli Ministry of Foreign Affairs, reminded us as he described Israel's frustration from its inception that media reports are typically negative and ignore Israel's continuing flow of positive accomplishments.
"Stories of Israel's conflict with Palestinians are the most popular stories and there is a lack of interest and curiosity about anything else," Nahshon said. "There are 250 to 300 foreign correspondents living in Israel. Pressured to submit articles to justify their existence, they write about the Israeli-Palestinian conflict although it is nothing compared to the real conflicts in the region, such as the slaughter of civilians in Syria."
Today, Twitter, Instagram, Facebook messages, and captivating smartphone images can be relayed around the world in minutes, setting world opinion before Israel has the opportunity to respond, according to D. J. Schneeweiss, director of Israel's digital diplomacy.
"People check social media for an initial interpretation of an event and their minds are made up about a story long before it hits TV or print," Schneeweiss said. "Everyone with a cell phone and everyone who uses a social networking forum is now a member of the media." Through social networking, stories and images negative for Israel — without context or verification, or even fabricated — can be quickly picked up by a biased media, he added.
"We are at war. We believe accuracy is Israel's best ally," said Jonny Perl, head of MediaCentral, a Jerusalem-based project that serves more than 400 correspondents, editors, and bureau chiefs from more than 30 countries.
MediaCentral maintains active contact with journalists, offering accurate information, and encourages balanced perspectives. Perl described how at least 17 pro-Palestinian organizations operate within Israel with sophisticated social outreach to engage journalists. These organizations aim to "fix" journalists' perspectives to an anti-Israel narrative that can easily become the standard position from which their reports are then written.
Michael Oren, deputy minister for diplomacy in the Prime Minister's Office, former Israeli ambassador to the United States, and author of the definitive history of the Six-Day War, dates this modern propaganda war against Israel to 1970 and to Yasser Arafat.
"From 1967 to 1970 no one was writing about Palestinian Arabs," Oren said. "Then Arafat launched some high profile terrorist attacks and now he's getting the world's positive recognition." Arafat's plan to "drive the Jews into the sea" through propaganda rather than traditional warfare has been described by Barry Rubin in his book, Arafat: A Political Biography.
"The Palestinians have the advantage over us. Their messaging has always been extremely emotional and devoid of context," Nahshon said. "A dead Palestinian child gains sympathy."
The Palestinian narrative, and now the narrative of many in the mainstream media, according to media watchers, is counter to the facts of history.
The false narrative is also counter to the facts of warfare and the facts of international law, says Prof. Eugene Kontorovich, a senior researcher with the Kohelet Policy Forum in Jerusalem. Yet false facts continue to be propagated as truth and go relatively unchallenged, he said.
Complicating these issues is the reality within the Palestinian and Arab worlds that positive truths about Israel cannot be told without consequences, according to Oded Revivi, mayor of Efrat in the West Bank.
In his beautiful and thriving Gush Etzion "settlement" town, Revivi describes how he must work with Palestinian leaders in secret for their protection from Hezbollah. Even when accomplishments are positive for the Palestinian residents, public meetings are predictably reported by Al Jazeera as "Arab leaders refused to fall into the Israeli trap."
Khaled Abu Toameh, award-winning Israeli Arab journalist and West Bank and Gaza correspondent for U.S. News and World Report, agreed that Palestinians and Arab Israelis are not going to tell the media positive things about Israel.
"Gazans are under the complete control of Hamas and Palestinians are monitored by the Palestinian Authority," Toameh said. "There is a lot of double talk from the Palestinians, and in the West, people don't want to pay attention to it. In the Arab world, the more anti-Israel you are and the more hatred you show, the more popular you are and the more secure you are in this world."
Oren added that Israel would get "killed in the press" with its coverage of the 50th anniversary of the Six-Day War.
"It will be '50 years of oppression and occupation,'" Oren said. "Wars in history become wars of history. This battle will be fought in the media and will be about truth. We'll all fight this war."
Having endured the Inquisition, the Protocols of the Elders of Zion, and Nazi propaganda, Jews are no strangers to "fake news" and its potentially devastating impact. Media watchdogs are courageous fighters on the front lines of today's version of the propaganda war. They encourage all who care about the survival of Israel to help them by alerting them through their websites when we observe media bias and inaccuracies against Israel.
HonestReporting's Pesach Benson has published Red Lines: The Eight Categories of Media Bias as a guide.
By checking watchdog websites regularly and receiving their Tweets and emails, we can quickly arm ourselves with information that enables us to feel confident when showing our support for Israel with our friends and co-workers.
Facts may not be our most helpful approach, however. Neil Lazarus, who offers practical Israel advocacy training through AwesomeSeminars.com, suggests that when someone criticizes Israel to us, being able to express genuine confidence in Israel and reassurance that we share their concerns may be the most helpful response.
Facebook, Twitter, and Instagram at #LoveIsrael are quick and easy ways to connect with Israel and stay personally involved.
Schneeweiss says that Israel's number of Facebook followers continues to grow and that 1 million follow in Arabic. He encourages us to check out the three new videos he posts every week at the Ministry of Foreign Affairs website, mfa.gov.il, and to enjoy the ever-changing wealth of positive news from Israel.
Richard and Diann Bromberg share a psychological assessment practice in Centerville.
To read the complete August 2017 Dayton Jewish Observer, click here.