How Dayton helped in '67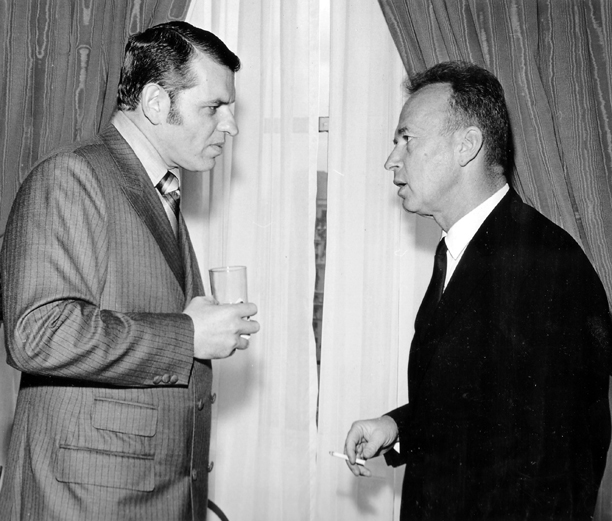 With the armies of Egypt, Jordan, Syria, and Iraq about to attack and invade Israel, the Jewish state launched a preemptive air strike on their airfields on June 5, 1967, beginning the Six-Day War.
The late Louis Goldman was at the head of the record-breaking Jewish fund-raising support for Israel in Dayton — and across North America — at that time. In 1967, Goldman was the youngest national chair of United Jewish Appeal. He also chaired Dayton's Israel Emergency Campaign.
In 2007, Goldman shared his memories of the Six-Day War campaign with Observer freelancer Renate Frydman to commemorate its 40th anniversary.
"Dayton became the highest city per capita in giving for that campaign in all the country," Goldman told Frydman. "We started setting up meetings and fund-raising affairs. There was a big fund-raiser at Meadowbrook (Country Club) and smaller groups at private homes. Even Christians gave. I called people and they were very willing (but), I asked them to give even more. I wasn't afraid to ask. Right after the war started, we filled Temple Israel (then on Salem Avenue) to overflowing."
On the evening of June 11, the Jewish Federation — then called the Jewish Community Council — held the City-Wide Emergency Community Rally for the Israel Emergency Fund.
Council President Robert A. Shapiro told those present, "We are gathered here — Orthodox, Conservative, Reform, Zionist, non-Zionist, members of all Jewish organizations — to speak in a single voice of our determination to safeguard the right of a small nation to live in peace."
Because Israel's survival was uncertain, the council's leadership decided to divert money to Israel that it had raised to build a new home for the aged, Goldman recalled.
Those who worked on the emergency campaign with him included Arthur Beerman, Solly Frank, Harry Green, Ed Levi, Milton Marks, Elmer Moyer, Joe Patterson, and Gene Thal. "We were going after the big dollars as fast as we could get them," Goldman said.
The June 19, 1967 issue of Newsweek reported about the national UJA Israel Emergency Fund and noted that in the "relatively small" city of Dayton, "seven men contributed $500,000."
In the middle of the campaign, Goldman received a call that his father was dying. "I went home to see him. I saw him for a while and went back to Bob's office," he said, referring to the late Robert Fitterman, executive director of the Jewish Community Council.
In his role as a national chair of UJA, Goldman traveled nationwide from city to city to raise dollars with Israel's treasurer, Pinchas Saphir, who led the U.S. emergency fund-raising.
In total, UJA raised $322 million for the Six-Day War Israel Emergency Campaign. For its part, Dayton raised more than $1.1 million for the emergency campaign; adjusted for inflation, this would amount to $8.1 million in 2017 dollars.
On June 15, 1967, four days after the war's cease-fire and Israel's resounding victory, Dayton Jewish Chronicle Editor Anne M. Hammerman wrote, "Our community has become a beacon for Jewry throughout the country. So immediate and great was our response that we are the example for many communities."
— Marshall Weiss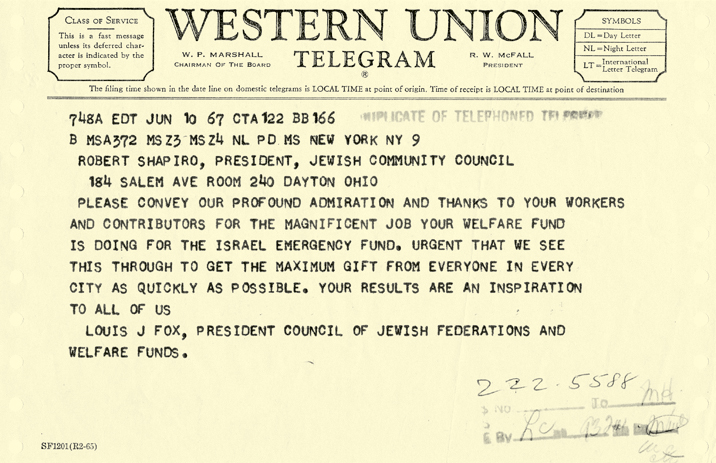 To read the complete June 2017 Dayton Jewish Observer, click here.