A delicious Seder, without too much fuss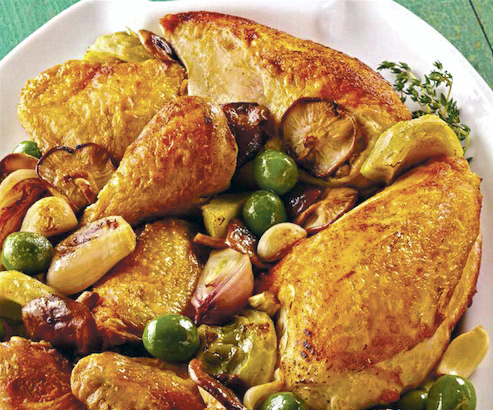 Recipes and Photos, By Elizabeth Kurtz, JNS.org
Everyone needs crowd-pleasing recipes we can turn to over and over again. This is important for every holiday, but especially for Passover, when ingredients are usually more limited.
At the heart of every Jewish celebration is family or friends gathered around the table enjoying stories, conversation, tradition, and great dishes. I believe with all my heart that these traditions, these meals, and these remarkable memories have held us together as a Jewish people for thousands of years.
The art and creation of an inspired, and delicious Passover meal can be challenging. For some, making the same recipes each year represents tradition, comfort, and familiarity, and for others like me, trying new recipes makes me excited to come to the table and share new tastes with others.
Here are my tips and tricks to make Passover cooking easy and delicious, followed by three Passover-friendly recipes — soup, main course, and dessert — from my kosher cookbook, Celebrate.
Whenever possible, stick to recipes that are naturally kosher for Passover. Recipes that include great natural flavor enhancers, like lemon and other citrus, fresh garlic, onion, wine, fresh and dried herbs, toasted nuts, and the freshest vegetables and fruits. Stay away from lots of matzah meal and potato starch dishes. You will feel better and look better, too.
Make lists, lots of lists: your menu, your grocery list, the ingredients you were able to store from last year, favorite recipes each year, guests at each meal, how much you bought, what you need to replace before next year. Keep these lists to use from year to year.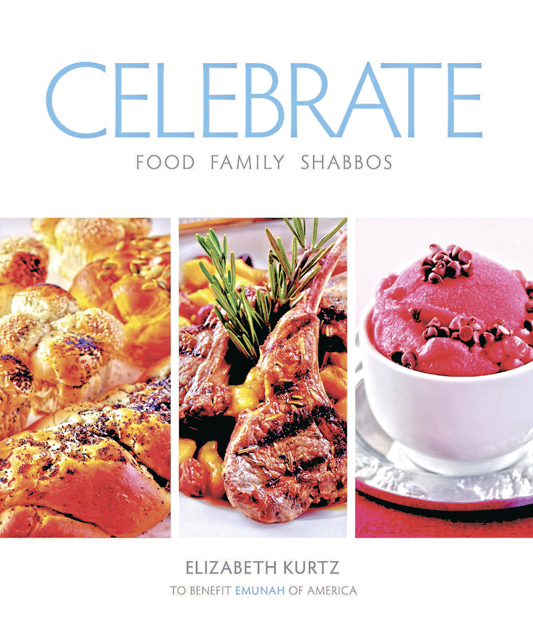 Create a menu so you can be organized and generate new lists from your menu. Always add one or two new recipes to the menu but do not make a full menu of new recipes. Trust me, you will become overwhelmed and the cooking time could become burdensome.
Make ahead anything that can be stored in the freezer, like roasts, soups, dips, some kugels, and desserts.
A few days ahead of time, prepare recipes that can be stored in the refrigerator for a day or two, like salad dressings, dips, desserts, kugel, and definitely chicken soup.
Follow these freezing tips: Let cool before freezing. Cover food with heavy duty aluminum foil for the freezer. Defrost most food in the refrigerator, then move to the counter before reheating. Recipes with sauces freeze well as do soups, and roasts. Label the items in the freezer. Reheat fried foods like schnitzel, and starchy dishes like potato kugel, directly from the freezer into a 250 degree oven. Do not defrost these first; they might get soggy.
It's OK to take a few shortcuts! Encourage guests to bring dishes to contribute to the meal; it makes them feel like a part of the event. Or buy something that looks great and makes life a little easier. Remember, you can dress up a flourless chocolate cake with some puréed berries and whipped cream and make it look almost homemade.
If you are joining or hosting a Passover Seder that is more traditional and plan on following a Haggadah completely, remember to serve your guests and children something before you start. I recommend a few meatballs with tomato sauce on baked potatoes. This way, everyone can enjoy the experience without hunger pains.
Albondiga Soup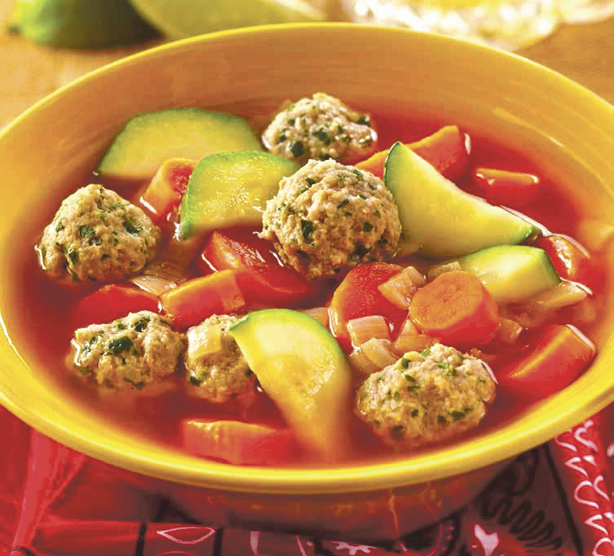 This exotic Spanish soup is a Passover favorite for my family, precisely because it tastes nothing like Passover. Carrots and zucchini, fresh cilantro, rich broth and flavorful meatballs — albondigas — make a filling first course that your family and guests will love. Serves 10.
For the meatballs:
1 lb. ground turkey
1/3 cup matzah meal
1/4 cup finely chopped fresh cilantro
1/4 cup chopped fresh parsley
1/2 tsp. ground cumin
11/2 tsp. kosher salt
1 large egg, lightly beaten
For the soup:
2 Tbsp. extra-virgin olive oil
1 yellow onion, finely chopped
2 cloves garlic, minced
6 cups chicken broth
2 cups water
2 Tbsp. tomato paste
2 carrots, peeled and sliced
1 large zucchini, halved lengthwise and sliced
1/2 cup chopped fresh cilantro or parsley
1 tsp. dried oregano
3/4 tsp. kosher salt
1/2 tsp. ground black pepper
1 avocado, pitted and chopped, for garnish
1 lime, cut into wedges, for garnish
1/4 cup minced fresh cilantro or parsley, for garnish
To prepare the meatballs: Combine turkey, matzah meal, cilantro, parsley, cumin, and salt in a medium bowl. Use a wooden spoon to gently stir the mixture until blended. Add egg, mixing just until combined. Form into one-inch balls.
To prepare the soup: Heat oil in a large stockpot over medium-high heat. Add onion and cook, stirring occasionally, until soft, about six minutes.
Add garlic and cook until fragrant, about one minute. Add broth, water, and tomato paste, stirring to dissolve. Add carrots; bring to a boil over high heat. Reduce to a simmer and add meatballs; cook 15 minutes over medium-low heat.
Add zucchini; cook until carrots and zucchini are tender and meatballs are cooked through, an additional 10 to 15 minutes.
Add chopped cilantro, oregano, salt, and pepper. Serve warm with avocado, lime wedges, and a sprinkle of minced cilantro.
Roasted Chicken with Shiitake Mushrooms and Artichokes
Your house will smell amazing when you make this chicken. Artichoke bottoms are available in both the freezer section and in a can. If you're using frozen artichokes, thaw first. You can also use marinated artichoke hearts from a jar in place of the artichoke bottoms. Just be sure to drain them before using. This must be served warm. Serves eight.
2 (3- to 4-lb.) chickens, cut into eighths
5 Tbsp. extra-virgin olive oil, divided
1 tsp. kosher salt
1/2 tsp. ground black pepper
Zest and juice of 2 lemons
1 lb. artichoke bottoms (or zucchini sliced in 1-inch rounds)
1/4 lb. shiitake mushrooms, sliced
10 large cloves garlic
8 shallots, peeled and halved
2 tsp. fresh thyme leaves or 1/2 tsp. dried
1 cup dry white wine
1 cup pitted green olives
Preheat oven to 500 degrees. Place chicken in a shallow roasting pan. Drizzle with two tablespoons of oil, and season with salt and pepper.
Zest each lemon into long strips; squeeze juice into a separate small bowl. Set juice aside. Combine lemon zest, artichokes, mushrooms, garlic, shallots, and thyme in a medium bowl. Add remaining three tablespoons oil; toss to coat. Arrange mixture in pan around chicken.
Roast until chicken is golden brown, about 40 minutes. Remove chicken from oven. Pour reserved lemon juice, wine, and olives over chicken. Return to oven and cook an additional 10 to 15 minutes. Serve warm with vegetables and pan juices.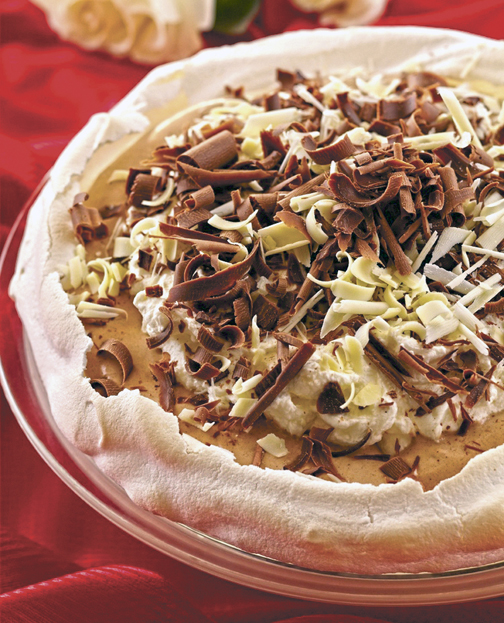 Chocolate Angel Pie
Serves 10
For the meringue crust:
4 egg whites, at room temperature
1 cup plus 2 Tbsp. sugar
1 tsp. potato starch
1 tsp. distilled white vinegar
3/4 tsp. Passover vanilla extract
For the filling:
2 oz. unsweetened chocolate, chopped
4 egg yolks
1/2 cup sugar
2 Tbsp. water
1/8 tsp. salt
2 cups pareve whipping cream, whipped until soft peaks form, divided
Generous amount of chocolate and pareve white chocolate shavings, for garnish
Preheat oven to 450 degrees. Grease a 9-inch deep-dish pie pan.
To prepare the meringue crust: With an electric mixer, beat egg whites in a large bowl until soft peaks form. Gradually add sugar and potato starch, constantly beating.
Stir in vinegar and vanilla; beat until stiff peaks form and meringue is thick and glossy.
Spoon meringue into prepared pie pan; press against sides to form a crust. Place in oven and turn off heat. Leave meringue in oven for three hours; remove pan to cool.
The meringue can be stored up to two days, covered, in a dry place.
To prepare the filling: Melt chocolate in a medium saucepan over low heat, stirring until smooth. Cool to lukewarm.
Using an electric mixer, beat egg yolks, sugar, water, and salt until frothy. Stir into pan of melted chocolate.
Cook mixture over low heat, whisking constantly until thick, about four minutes. Cool completely.
Fold chocolate mixture into half of the prepared whipped cream. Pour into cooled shell; chill in refrigerator until mousse is set. Top with remaining half of whipped cream; garnish with chocolate and white chocolate shavings. Store in refrigerator until ready to serve.
To read the complete April 2017 Dayton Jewish Observer, click here.