Cuban crowd pleasers
By Jennifer Stempel, JTA


Cuban-Style ArrozCon Pollo
Chicken and rice, arroz con pollo is a dish for which every Latin country has its own unique spin. Some use beer versus wine, or crushed annatto rather than saffron. It's affordable, it's rich with flavor, and it's visually gratifying. And the best part of all is how quickly it cooks up, making it ideal for a family-friendly weeknight meal.
1 Tbsp. olive oil
1 whole chicken (3 or 4 lbs.), cut into 8 pieces
Salt
Pepper
1 cup chopped onion
1 cup chopped red bell pepper
3 cloves garlic, minced
1 Tbsp. paprika
1 Tbsp. dried oregano
1 Tbsp. ground cumin
2 cups extra long grain rice
11/4 cup white wine
1 14-oz. can diced tomatoes (juice included)
2 cups chicken broth
1/2 tsp. saffron threads, crushed
2 dried bay leaves
1 cup frozen peas (not thawed)
1/2 cup sliced green olives
Italian parsley for garnish
Pimento peppers for garnish
Heat olive oil in a large pot over medium-to-high heat, and add chicken pieces. Season generously with salt and pepper, and brown the chicken pieces. Remove the chicken and place on a plate. Add the onion, bell pepper, garlic, paprika, oregano, and cumin to the pot. Cook until onions soften, stirring periodically. Stir in the rice and cook for another two minutes.
Add the white wine. When the liquid reaches a boil, add the chicken pieces, tomatoes, chicken broth, saffron, and bay leaves. Cover the pot, and lower the heat to medium-low. Simmer for 20 to 25 minutes, or until most of the liquid evaporates and rice cooks through. (Note: it should not be completely dry.)
Turn off the heat. Remove the bay leaves, Stir in the frozen peas and the sliced olives, cover and let stand for 15 minutes. Garnish with Italian parsley and pimento peppers. Serve immediately.
Cuban Chickpea Stew Recipe
I remember a night in Santiago de Cuba, when my cousin Virginia surprised us with this comfort dish. Her chickpea stew included big chunks of sweet squash, creamy potatoes and hearty chard, all perfumed with the unmistakable smoky flavors of chorizo.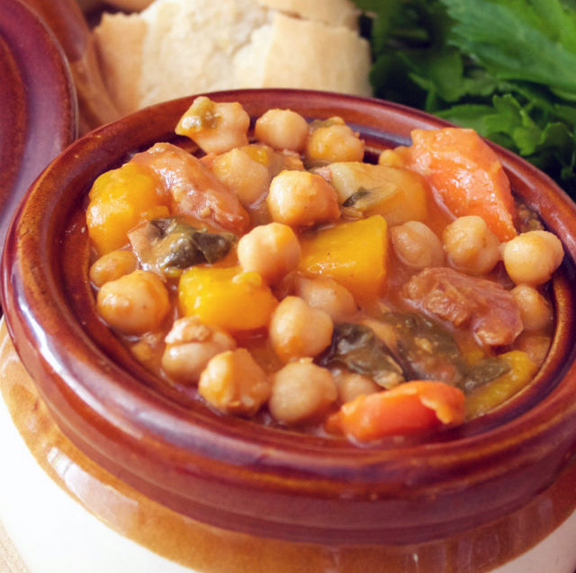 1 Tbsp. olive oil
6 oz. soy chorizo or kosher chorizo if available
1/2 large onion, diced
1/2 red bell pepper, diced
3 cloves of garlic, finely minced
3 carrots, sliced in rounds
Salt and pepper
1 large russet potato, cubed
1/2 kabocha squash, seeded and cut into large chunks, including peel
1 smoked turkey leg
1 8-oz. can of tomato sauce
1 quart chicken broth
2 cans garbanzo beans, drained and rinsed
1 bay leaf
1 bundle of chard, ribs removed and leaves coarsely chopped
In a large stockpot, heat olive oil over medium heat. Add soy chorizo, breaking it up with a wooden spoon. Add the onion, bell pepper, garlic and carrot, and season with salt and pepper. Cook until onions are translucent.
Add the potato, squash, turkey leg, tomato sauce, broth, garbanzo beans and bay leaf. Cook until the potato and squash are fork tender. Remove the bay leaf, turkey leg and squash pieces.
Shred the meat off the turkey leg and return to pot. Remove the peel from the squash, dice the squash and return to the pot. Add the chard and continue cooking until chard wilts. Taste for seasoning, adjusting accordingly with salt and pepper.
To read the complete November 2016 Dayton Jewish Observer, click here.